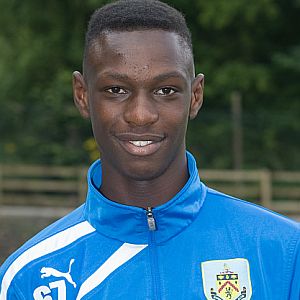 Ntumba Massanka scored the second
It was Australian Ly who opened the scoring, latching on to a downward header from Christian Hill to give the Clarets the lead with a tidy finish.
That was midway through the first half and seven minutes later we doubled the lead when Massanka lobbed the home goalkeeper for goal number two.
Central defender Whitmore got the third in the second half with just under half an hour to go.
The performance please coach Terry Pashley who said after the game: "The boys were excellent from start to finish. It was a solid first half performance, backed up with an equally decent second half display and it's a great start for us."
The Burnley team was: Callum Jakovlevs, Waqas Azam, Callum Richardson, Alex Whitmore, Andy Nugent, Brad Jackson, Luke Daly, Nathan Lowe (Andreas Bianga 79), Kevin Ly, Christian Hill (Lewis Nuttall 72), Ntumba Massanka (Khuis Metz 74). Subs not used: Conor Mitchell, Charlie Holt.