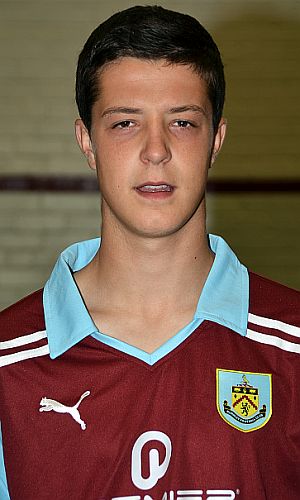 Adam Evans scored the equaliser
Wrexham had taken the lead two minutes earlier but a defeat would have been harsh on the Clarets in a game that looked to be well and truly heading for a 0-0 draw.
I don't think anyone watching the first half would have considered there would be any goals. It was poor stuff to watch with neither goalkeeper having much to do at all. The closest we came was when Joe McKee couldn't quite get on the end of a through ball and Jon Stewart had one save to make just before the interval.
That changed in the second half and we were very thankful to Stewart who made three very good saves in the opening minutes after the break as Wrexham grabbed the initiative.
They proved to be very important saves as they just about saw off the visitors as an attacking force and the Clarets were dominant for much of the rest of the second half.
Even so, we didn't create much until Ross Wilson, this week playing on the right hand side of midfield but again a threat down the flank, picked the ball up in a central position just inside the box and hit a shot smack against the foot of the left hand post.
You sensed then that there wasn't going to be a goal and it was a surprise when the visitors took the lead on 82 minutes. It all looked very scrappy. James Colbeck hit the post and when the ball rebounded to him he shot from a tight angle and saw the ball deflect in off Stewart.
Burnley's response was quick, positive and somewhat fortunate as we equalised within two minutes. Aryn Williams crossed and the ball landed at Wilson. His shot was way off target but dropped nicely for Evans who made no mistake.
It was almost 2-1 too. The ball ran loose after substitute Jason Gilchrist challenged allowing Joe McKee to rifle a shot into the roof of the net from right on the edge of the box. Somewhat harshly, Gilchrist was pulled up for a push and the goal was ruled out.
It was all Burnley now and we all but won it through Dominic Knowles only for a defender to clear off the line.
A very disappointing first half; a better second half and a very much deserved point.
The teams were;
Burnley: Jon Stewart, Aryn Williams, Tom Anderson, Brian Easton, Danny Lafferty (Luke Conlan 52), Ross Wilson, Joe McKee, Cameron Howieson, Shay McCartan (Adam Evans 70), Zavon Hines (Jason Gilchrist 76), Dominic Knowles. Subs not used: Ben Woodhead, Alex Coleman.
Wrexham: Louis Gray, Steve Tomasson, James Colbeck, Kyle Parle, Anthony Stephens, Johnny Hunt, Jamie Tolley (Rob Salathial 63), Jamie Morton, Matty Owen, Danny Wright (Robbie Evans 63), Obi Anoruo. Subs not used: Ed Marsh, Max Fargin.