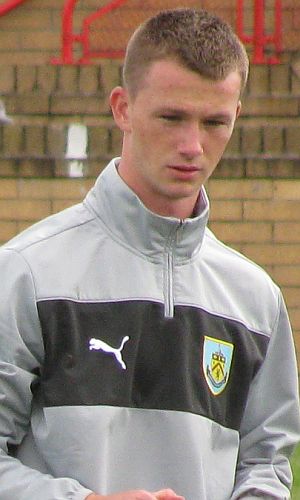 Luke Gallagher, one of two second years on duty
All three of the professionals still able to play in the youth team are out. Both Jack Errington and Luke Conlan, who hasn't played since the win at Mossley, are injured and Cameron Howieson, fresh from his time in the Olympics, is currently being given extra rest following his efforts with New Zealand.
To add to that, two of the new scholars, Nathan Lowe and Alex Whitmore, are also out with injuries whilst three more of the new recruits, Cameron Dummigan, Evan Galvin and Conor Mitchell are the latest players to suffer through us having to wait for international clearance.
I find this wait for clearance astonishing when surely the world of football should be doing all it can to help young players make progress in the game. Last season both Howieson and Luke Gallagher had to wait some time before they could play and it has also affected others in recent seasons including Aryn Williams.
That leaves Pash and Andy Farrell with second year scholars Gallagher and Jason Gilchrist along with first years Callum Jakovlevs, Charlie Holt, Luke Daly and Lewis Nuttall. The side is made up of five players from the under-16 team and two of the substitutes selected from the under-15 team.
It's a difficult opening with so many players missing and the youngsters, along with Pash & Faz, will come up against a familiar face on the touchline tomorrow. Former Claret Alan Moore is now Bury's Academy Manager but their head of coaching within the youth department at Gigg Lane, and their youth team coach, is Vince Overson who was, until the beginning of this year the Centre of Excellence Manager at Burnley.
Burnley's team tomorrow is: Callum Jakovlevs, Charlie Holt, Richard Barnes, Luke Gallagher, Christian Hill, Luke Daly, Jamie Frost, Walsh, Billy Hasler-Cregg, Lewis Nuttall, Jason Gilchrist. Subs: Walsh, Andrew Nugent, Khius Metz.
Kick off tomorrow at Gawthorpe is 11:00 a.m.