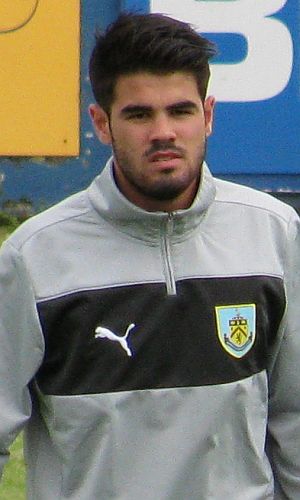 Aryn Williams
This might just be another pre-season game but tomorrow is a special one in that it has been designated, at Droylsden, as this year's fixture for the Tony Downes Memorial Trophy.
Tony, or Guardsman Neil Tony Downes, serving with the 1st Battalion Grenadier Guards in Afghanistan, was killed by a landmine while on patrol in Helmand Province on 9th June 2007. He was just 20 years of age.
He was from Droylsden and each year since his local club have played a pre-season game for the 'Tony Downes Memorial Trophy'.
This year, the family of Guardsman Tony Downes have decided that the Burnley game should be the one in which the trophy is contested and gives people the opportunity to support his family and indeed all of our armed forces.
It will be a humbling experience for our young lads who go into the game having twice won in the last week, beating Alfreton 3-0 last Saturday before coming back from a goal behind to beat Padiham on Tuesday with goals from trialist Johnny Goddard and Shay McCartan.
Jason Blake will select from the same squad that played on Tuesday. Luke Conlan is currently out injured but, with the two trialists Joe Walsh and Goddard expected to be included again, we'll select from:
Conor Mitchell, Callum Jakovlevs, Aryn Williams, Tom Anderson, Alex Coleman, Jack Errington, Joe Walsh, Adam Evans, John Goddard, Archie Love, Shay McCartan, Mehdi Lazaar, Luke Gallagher, Joe Jackson, Jason Gilchrist.
Droylsden's early history explains the name of the ground. They were originally formed at the invitation of a Mr Joseph Cropper who was the landlord of the Butchers Arms in Droyslden.
Their pre-season has seen them beat Congleton 3-2 and Buckley Town 2-1, and then draw against Curzon Ashton 2-2 and Stockport Sports (formerly Woodley Sports) 1-1 before losing for the first time on Tuesday when they went down to a 3-2 defeat at Rhyl.
They are looking forward to a fifth successive season in the Blue Square North. They were relegated from the Premier League in 2008 after just one year. Since, they have never finished below 9th in the North division and have once reached the play offs.
During that period, probably the most dramatic game they played in was in December 2010 when they reached the 2nd round of the FA Cup and were drawn at home against League One Leyton Orient.
The first game, at Droylsden, ended 1-1 and the replay down at Leyton Orient looked to be going their way when they led 2-0 with Orient having had a player sent off during the first half.
Then the game took a dramatic twist. With six minutes remaining, Droylsden also had a player sent off, this just a few minutes after Orient had pulled on back from the penalty spot. Then, on 89 minutes, Jonathan Tehoue scored to take the game into extra time.
Even before extra time, referee Graham Scott showed his red card again to reduce Orient to nine men.
In extra time, Orient quickly went 3-2 up and a minute later former Burnley full back Lee Roche, who played for Droylsden from 2007 to 2011, became the fourth player sent off. That proved too much and an incredible extra time ended with Leyton Orient winning 8-2 with both Tehoue and Scott McGleish getting hat tricks.
Another ex-Claret to play for them is goalkeeper Craig Mawson. He could have expected to return tomorrow as goalkeeper coach to Burnley's development and youth squads but he became a dad this week and Ben Woodhead, released at the end of last season, is currently standing in.
Our best wishes to Craig and his wife on their new addition.
Tomorrow, however, thoughts will be very much with the family of Tony Downes. We all get passionate and worked up about our football but the loss of this young man at 20 really does put things into perspective.