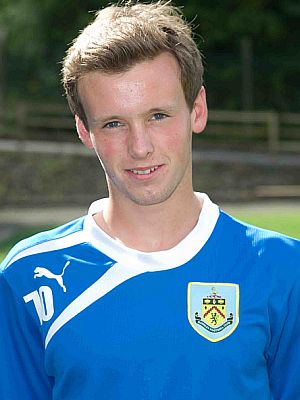 Jamie Frost scored the third goal
Jason Gilchrist opened the scoring, giving Burnley a 17th minute lead, running onto a through ball and hitting a powerful left foot shot beyond the Sunderland goalkeeper.
The home side came back with goals from Ross Holland and Jordan Laidler giving them a 2-1 lead, Laidler's goal coming from the penalty spot and that meant Sunderland led 2-1 at half time.
Ten minutes into the second half and it was all square again at 2-2. Gilchrist was felled in the box and Steven Hewitt stepped up to score from the penalty spot.
We were back in front too three minutes later when Jamie Frost fired home after a Hewitt shot was blocked and with 20 minutes to go we made it 4-2 when Cameron Howieson scored from close range.
As the game moved into the last minute it was still the same scoreline but they netted two in a minute, the first from Carl Lawson and the last ditch equaliser through Adam Mitchell to earn a draw.