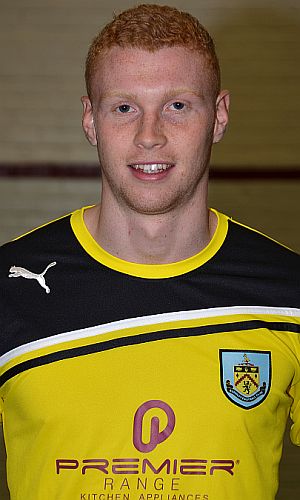 Ben Woodhead was in goal for Nelson
The Nelson squad named included five players who have Burnley connections. Robert Grimes captained a side that included Matt O'Neill; both were members of our youth squad just over a decade ago.
More recent youth team members Ben Woodhead, Ben Hoskin and Charlie Holt were also included against a Burnley team that was unfamiliar to me but was not the team that I named this afternoon in the preview.
We started quite brightly with both Ntumba Massanka and Khius Metz coming close but we were rocked just seventeen minutes in when Nelson went in front following a goalkeeping error.
Their lead lasted all of two minutes until the referee rightly pointed to the spot after a foul just inside the box on the right hand side. Jamal Crawford was given the responsibility from 18-yards and made no mistake.
Despite us looking the more likely it was Nelson who went back in front with a free kick from just outside the box but we were almost level again right on half time when Massanka lifted the ball over Woodhead only for it to drop down off the bar.
Maybe with the new goal line technology cameras at Turf Moor we'd have been granted a goal but it wasn't to be and at half time we trailed 2-1.
There were no further goals in what was a disappointing second half leaving the young Clarets on the wrong end of that 2-1 scoreline.
The teams were;
Nelson: Ben Woodhead, Ged Morris, Jamie Hastings, Adnan Ahmed, Ben Hoskin, Lee Botham, Matt O'Neill, Danny Mahoney, Peter Wright, Robert Grimes, Liam Boswell. Subs: Charlie Holt, Jake Lloyd, Jonny Hession, Dominic Mahoney, Pat Furey.
Burnley: Danijel Nizic, Vashiko Dixon, Andy Nugent, Hamam El-Fitouri, Shaun Hobson, Lewis Norvock, Jamal Crawford, Brandon Wilson, Ntumba Massanka, Khius Metz, Christian Hill. Subs: Craig Mawson, Waqas Azam, Josh Dolling, Mark Howarth.