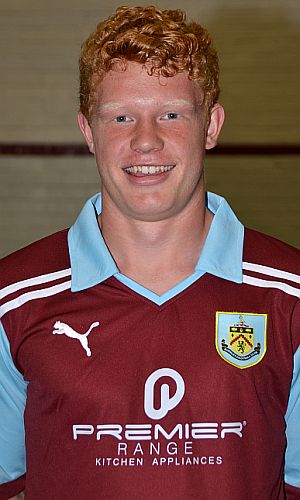 Central defender Jack Errington
Walsall are now back in second place, two points behind us and with a game in hand. They beat Oldham 6-0 at Oldham on Saturday to move back above Preston into second place.
They must be a strong team. They've scored the most goals (45) and by far have the best defensive record having conceded only ten goals in sixteen games.
Such was their performance at Oldham on Saturday that home coach Tony Philliskirk described them as the best youth team he'd seen at Football League level in the last four years and admitted that but for his goalkeeper Dale Connor they would probably have gone on to get double figures.
"We looked physically inferior and they punished every mistake with their finishing lethal," said Philliskirk. "Four of the goals came from when we were in possession.
"Walsall dominated the game, but at times we played some lovely football only to come up against a brick wall in the final third of the pitch."
With Walsall winning, we needed to get something from the home game against Port Vale to stay top and we did just that with Centre of Excellence Under-16 right back Charlie Holt grabbing his first ever goal at this level.
Preston had no game but they are still very much in the running, but I can't see any other side challenging now with Carlisle, also without a game, having dropped alarmingly from top place in recent weeks.
Saturday also saw wins for Macclesfield Town, Rochdale, Stockport County and Tranmere Rovers.
Below are all the results from last week, this week's fixtures and Burnley's goalscorers, including those scored on that fantastic night at Fulham last week.
LAST WEEK'S RESULTS
Tuesday 6th March
Shrewsbury 2 Blackpool 2
Saturday 10th March
Blackpool 1 Macclesfield 3
Burnley 1 Port Vale 0
Morecambe 0 Tranmere 2
Oldham 0 Walsall 6
Rochdale 3 Wrexham 2
Stockport 2 Accrington 1
THIS WEEK'S FIXTURES
Tuesday 13th March
Bury v Shrewsbury
Saturday 17th March
Macclesfield v Oldham
Morecambe v Accrington
Port Vale v Preston
Shrewsbury v Rochdale
Tranmere v Blackpool
Walsall v Burnley
Wigan v Bury
Wrexham v Carlisle
BURNLEY'S GOALSCORERS (LEAGUE AND CUP)
20: Jason Gilchrist
18: Shay McCartan
10: Steven Hewitt
6: Adam Evans
5: Cameron Howieson
3: own goals
2: Archie Love, Alex Mullin
1: Charlie Holt, Lewis Nuttall, Dean Overson, James Taylor, Aryn Williams
CURRENT LEAGUE TABLE
Team
pld
w
d
l
f
a
pts

Burnley

17

14

0

3

41

19

42

Walsall

16

12

4

0

45

10

40

Preston North End

17

12

2

3

42

17

38

Carlisle United

17

11

0

6

44

24

33

Tranmere Rovers

17

10

1

6

35

26

31

Rochdale

19

9

3

7

38

33

30

Stockport County

18

9

1

8

36

41

28

Bury

18

8

3

7

39

36

27

Oldham Athletic

20

7

6

7

28

28

27

Wrexham

18

7

3

8

32

31

24

Port Vale

17

6

3

8

33

34

21

Macclesfield Town

18

5

5

8

21

30

20

Shrewsbury Town

16

5

1

10

25

34

16

Wigan Athletic

16

4

3

9

21

31

15

Accrington Stanley

19

4

3

12

22

42

15

Blackpool

21

4

3

14

26

59

15

Morecambe

18

2

3

13

26

59

9