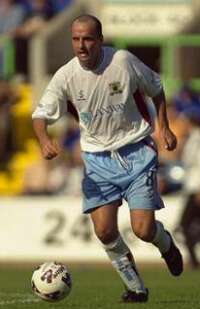 Paul Cook - scored both goals
So it was tonight as, after a barren month, Ronnie Jepson's reserves returned to winning ways with a comfortable 2-1 victory over Oldham Athletic.
What is it about this place that gives it its own unique micro-climate? Why is it that even on a pleasant summer's day you can come out of the ground chilled to the very marrow? Upon arrival at the ground the thermometer in my car indicated a virtually tropical 8 degrees, not much different from the previous night on the balmy Costa Del Rotherham. Yet once in place in the Victorian main (and soon to be re-named Pukka Pies) stand, the temperature plunged to depths that even Ray Mears would balk at, exacerbated by a piercing gale producing a windchill factor of fearsome proportions. I was obliged to recall Spike Milligan's classic early 70s series Q7, in which the oft-repeated catchphrase reminded us that no matter how well things were going elsewhere, "...in Oldham it's bloody awful!"
Not that this was going to bother our heroes tonight as they took the field, encouragingly in claret and blue, but the short-sleeved version! The opposition and the locals were clearly impressed. "Can such things be?" they muttered into their sponsored pies in awe-struck admiration. In a psychological masterstroke the Supremo had won the game without a ball being kicked! Either that or we don't have enough long-sleeved home shirts without squad numbers for the reserves.
As usual we lined up in 4-4-2: Cennamo; McGregor (capt), Thomas, Armstrong, Branch; Maylett, Pilkington, Cook, Waine; Ellis (O'Neill 85), Blake (Rasmussen 66). Subs not used: Salisbury, Earl Davis, Leeson.
Oldham too fielded a mixture of youth and experience: Gary Kelly,Steven Clegg (Danny Hall 15), Stuart Balmer, Dean Holden, Ben Smith, Paul Rickers (Joe Doran 81), Danny Boshell (Adam Griffin 62), Lee Hardy, Scott Vernon, John Eyre, Cristian Colusso. Subs not used: Michael Davenport, Chris Grange.
It was interesting to note that there was no sign of Lenny Johnrose, although it had been announced on the club's website in the afternoon that he was in the team. Could this be significant?
From the kick-off Burnley dominated, passing the ball around well. Cook, looking somewhat incongruous in short-sleeved shirt and black mittens, was controlling everything, more than ably helped by his two young lieutenants Pilkington and Waine. Ellis and Blake's movement up front was bamboozling the home defence; Armstrong, Thomas and McGregor were sound at the back, and with Branch and Maylett getting down the flanks at every opportunity it was only a matter of time before we scored. This duly happened in the 12th minute when a poor clearance by Kelly was charged down to Blake; he squared the ball to Cook who shot low past the despairing goalie from the edge of the area.
Three minutes later and there was further disappointment for the home fans when Steven Clegg, the 18 year old trialist from Manchester United, had to depart with a foot injury.
Although Oldham produced the occasional flourish, usually inspired by the Argentinian Colusso, it was Burnley who threatened most. A superb Cook cross was only just headed over by a despairing defender before Cook again was the provider in the 35th minute, this time for Blake whose mazy dribble ended with a shot against the bar. The respite for Oldham was only temporary as in the next minute Cook rifled another 18-yarder through a crowded goalmouth for 2-0.
There only remained enough time for Ellis and Holden to be booked for a disagreement, and Mitchell too for an unlawful challenge, before it was time to head for the steaming urinals and a chance to warm up.
The second half was largely uneventful. Oldham enjoyed more of the possession, but rarely threatened. Maylett was seeing a lot of the ball on the right wing, but continued to frustrate with his final delivery. It had become a more workmanlike performance and even Cook, outstanding in the first half, was less influential. The game was brought back to life five minutes from time when, following a truly horrendous challenge from behind on Ellis by Holden, the on loan from Bolton defender was sent off, incredibly not for a straight red, but for a second bookable offence. Tempers rose in the Pukka Pies as members of the Clarets contingent, some of whom were attending their fourth away game in eight days, gave vent to their feelings in no uncertain terms.
In the last minute of stoppage time, much to the surprise of the locals making for the exits Oldham actually scored. From a corner conceded when Branch allowed his man to get past him, Vernon headed in despite a despairing attempt to clear on the line.
This was the game's last action, as from the kick-off referee Mr Sygmuta blew for time on a sound performance from the Clarets. Having lost their way a bit in recent weeks it was important to get back into a winning vein. Particularly pleasing was the performance of Luigi Cennamo. With his confidence in tatters after the 7-1 mauling at Wrexham, the disaster at Cheltenham and his subsequent demotion from the bench, he had a solid, imposing game and it was good to hear his confident trademark bellow of LUI!!! echoing around the frozen wastes.
So with a third of the season left, it's still all to play for. Huddersfield did us a favour today by beating leaders Tranmere, so that means that next Wednesday's home game against West Brom assumes an even more important aspect. No excuses - get down to the Turf and cheer on the reserves for what should be a cracking game. Who knows, Jason Roberts might be playing!
PS Just to point out to the Media and PR department that Oldham, like Wrexham, produced a team sheet packed with up to date information and statistics about the Avon Insurance League. And what's more (Edoardo and Andrew look away now) it was free!

Fixtures and results

Avon Insurance League Table