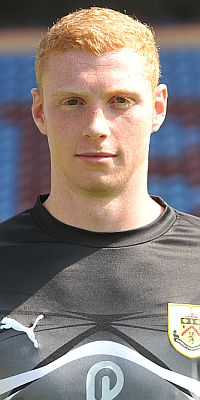 Ben Woodhead - ruled out with knee injury
We reported last week that Woodhead had been stretchered off in the win at Carlisle and yesterday it was revealed that he will have his leg in a brace for six weeks before seeing the specialist again.
He missed all of last season recovering from a cruciate ligament injury, his second such injury, and now everyone will be hoping this one is not as bad as first feared. Youth team coach Terry Pashley said: "We won't know the exact extent until he sees the specialist but we are obviously hoping for good news and hoping it will be shorter term.
"He has had his injuries before and recovered from them and got playing again so it's devastating for him. But he is staying upbeat and coming in every day to do the bits of work that he can do an we will help and support him through it."
Injuries are beginning to hit the youth team. Apart from Woodhead, James Taylor has been out all season to date, Tom Anderson suffered a knee injury against Bury at Rossendale two weeks ago and Dean Overson is currently ruled out.
The team for today's game at Morecambe is: Josh Cook, Curtis Woods, Neil Yadolahi, Steve Edwards, Ed Williams, Ross Wilson, Joe McKee, Dave Lynch, Archie Love, Tommy Taylor, Joe Jackson. Subs: Alex Coleman, Alex Mullin, Steven Hewitt.