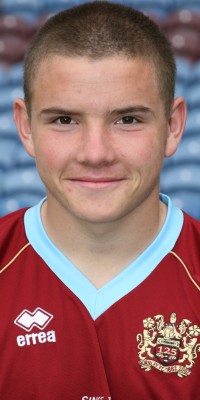 Alex McDonald - scored both the goals
We set out in our usual 4-5-1 system but saw a different line up than usual. Stef Ritchie came in for Jon Sergeant in goal and Wes Fletcher took the mantle of lone striker from Rob Turner, injured in the midweek reserve game. Elsewhere, Matt Lomas came in a left back, seeing Thomas Bradley shift to the holding role in midfield and Dean Stott dropping to centre back in place of Nik Kudiersky.
As expected we started brightly against the league's newest side. We looked faster and stronger initially, although Morecambe were well organised and seemed to have a good, footballing approach to the game. In fact their coach had words with his centre half when he needlessly went long, demanding a more concise passing approach.
We could, and perhaps should, have taken the lead on around the ten minute mark as Alex McDonald released Ben Hoskin down the right. He sent in a teasing cross which Fletcher was inches from converting. The visitors immediately attacked and won a penalty through a defensive error. The guilty parties were Stott and Ritchie but how guilty they were is up for debate as it was just more unfortunate than bad. The penalty was dispatched with ease.
Ten minutes later they could have doubled their lead as they broke into the box down the right and saw an angled shot hit the underside of the bar and bounce out. Our promising start had vanished into broken play and scratchy performances.
The half time ear-bashing duly came, alongside a substitution and tactical reshuffle. Dominic Knowles came on for the strangely quiet James Craggs and we went 4-4-2. Knowles partnered Fletcher up top, Stott swapped with Bradley as McDonald went left wing and Chris Anderson right. We instantly improved.
McDonald should have had a penalty after squirming into the box and being brought down by the keeper and full back, but the referee declined to award one. It wasn't long before we levelled it up though. Adam Kay played Fletcher in on the right wing and he cut inside, into the box, before looking up and picking out McDonald at the far post. The fiery winger made no mistake.
We had another penalty appeal turned down as Kay stormed into the box and drew a challenge from a defender after he'd nicked the ball away. It looked more clear-cut than the previous one and the watching fans let the ref know how poor the decision was. The lead wasn't long in coming and Kay was once more instrumental as McDonald again found himself unmarked at the back post to fire home. Unfortunately, some people missed the build up to this due to a pitch invasion by a toddler on the halfway line, hoping to join in the game.
U-16 winger Oliver Devaney entered the fray for another taste of Alliance League football, replacing Anderson who had begun to tire. We were still looking for a goal to try and put the game to rest but were fortunate that the ref had decided that one penalty a game was enough, as Ritchie rushed out and made contact with the Morecambe striker. If the forward had gone down he may have had a better chance, but only appealed after he'd failed to hit the back of the net. Even so I'd have said it should have been another spot kick.
Dan Brown was booked for a foul on the half way line and McDonald was also carded along with his marker for a scuffle on the floor. McDonald could have snatched a hat-trick with a snap volley from 18 yards but it sailed just wide. Chris Lynch replaced the limping Hoskin as the game wound down but we held out for the win.
Team :- Stef Ritchie, Ben Hoskin (Chris Lynch), Matt Lomas, Dean Stott, Dan Brown, James Craggs (Dominic Knowles), Alex McDonald, Adam Kay, Dean Stott, Chris Anderson (Oliver Devaney), Wes Fletcher.