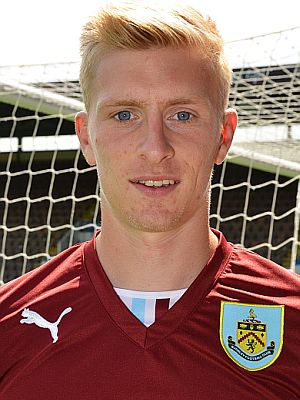 A second game on way back from injury for Ben Mee
They've had mixed fortunes in their previous games and suffered 5-0 defeats at the hands of Tranmere and Hyde, but that was back in mid-July. Their most recent friendly was against a Manchester City team last Saturday which Manchester City won 3-1.
There are no names in the Rhyl squad familiar to us other than perhaps their number 16 Danny Laverty. He was released by our close rivals Blackburn at the end of last season but he played in a pre-season friendly for Tranmere.
The Wirral press got his name wrong, wrote it as Lafferty, googled the name and said the Tranmere trialist was former Celtic and Burnley left back Danny Lafferty.
As for Burnley, it is another game for Ben Mee tonight. He played in the game at Leeds last week in what was his first appearance since being forced off in the friendly against Cork City.
He was then on the bench at Sheffield on Saturday and lines up at left back tonight. He's one of two first team squad members in the line up, the other being Joseph Mills who looks to be well out of the first team picture just now.
We'll line up tonight: Daniel Nizic, Waqas Azam, Alex Coleman, Tom Anderson, Ben Mee, Andrew Musungu, Steven Hewitt, Archie Love, Joseph Mills, Jamie Frost, Ryan Noble. Subs: Conor Mitchell, Jack Errington, Christian Hill, Cameron Howieson, Jason Gilchrist.