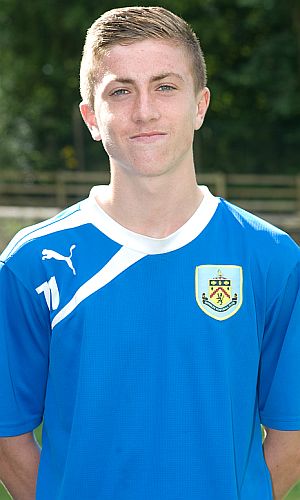 Christian Hill came in as one of three changes
Changes from the previous game were minimal, with only Waqas Azam and Christian Hill being drafted in from the start to replace Andy Nugent and Lewis Nuttall, who dropped to the bench, along with the typical goalkeeper rotation which saw Conor Mitchell take the gloves from Callum Jakovlevs.
We were playing into a strong wind but again started quickly, having a chance in the first minute. A lovely touch from Ntumba Massanka saw him flick the ball round his marker and give him space, but he dragged his shot wide of the post. However, unlike the midweek game it didn't signal a period of sustained dominance and stylish ball retention. We just didn't seem to be switched on and made a series of slopping and uncharacteristic mistakes.
We nearly gifted a goal to Macclesfield as a suicidal square back pass found the striker rather than Mitchell, and with the big keeper exposed he was rounded and saw the ball slide towards goal. Fortunately though it hit the inside of the post and rolled along the goal line before being hacked clear by the recovering defence. Shortly after another slack pass set the Macc Town forward free again but his placed shot went wide of the post.
Despite our below par passing we were causing issues with our running game, as the trickery of Brad Jackson and the pace of Hill was really troubling the visitors. Nice interchange on the right between Jackson and Charlie Holt ended with the winger chipping just wide when perhaps a cross to well placed forwards may have been a better choice. It mattered little though as within minutes we had taken the lead through Massanka who forced home a teasing Jackson cross.
Chances continued to be created by both sides and Mitchell needed a strong hand to beat away a firm drive from outside the box. At the other end Hill was unlucky as he unexpectedly got on the end of a right wing cross when the keeper missed it, but his volley struck the prone keeper and rebounded away.
The visitors made one of their opportunities count though and equalised with a close range header from a right wing cross. It knocked us and we just stopped making chances, inviting pressure. Before half time came we found ourselves 2-1 down and it was a real freak goal. A free kick was won by Macclesfield on the right side and when it was drifted in it caught the wind and deceived Mitchell, drifting over him and into the back of the net.
The 2nd half started much the same as the first, with an early close call, as Luke Daly saw an effort just drift wide. With the wind at our backs we were hopeful of a step up in gear and a good display, but it just never materialised. The match was just scrappy and lacked any real quality or highlight, drifting along in a frustrating manner. There were half chances but neither keeper was really worked.
With a little over 10 minutes left we changed things around with Khius Metz coming on to the pitch in place of Daly and our formation was changed to 4-4-2. Within 5 minutes it had done the trick and the schoolboy sub had found the back of the net. It was an untidy, bundled goal and as such matched much of the 2nd half. We made another change with Jamal Crawford replacing Jackson on the right and as the game wound down we could have won it with another effort from Metz, but his shot across goal was well saved and the referee called time on proceedings with the final score 2-2.
We also have a little good news on the youth front as Evan Galvin has stepped up his training following the ankle break sustained last season and will soon be available for selection. Along with this new scholar Brandon Wilson has also received his international clearance – considering past experiences this is a surprising turn of events – and he should also be available for selection imminently.
Team:- Conor Mitchell, Charlie Holt, Waqas Azam, Alex Whitmore, Callum Richardson, Brad Jackson (Jamal Crawford), Luke Daly (Khius Metz), Andreas Bianga, Christian Hill, Kevin Ly, Ntumba Massanka.
Subs not used:- Callum Jakovlevs, Andy Nugent.