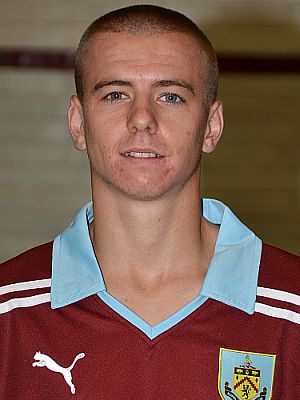 Steven Hewitt scored the winner at Walsall
The win at Walsall cannot be underestimated against the league's only unbeaten side. A defeat there would have seen the Saddlers go a point clear of us and with a game in hand, and that looked likely when the home side took an early two goal lead.
The comeback has seen the gap increase to five points and that allowed Preston to move back into second place with a 2-0 win at Port Vale.
Carlisle are fourth and they got back to winning ways on Friday with a 2-1 win at Wrexham. However, we have a nine point lead on the Cumbrians and it is very unlikely now that they would get themselves back in the title race with it surely going to one of the top three.
We are favourites, but could find ourselves losing top place by this time next week. Preston play games both tomorrow and Saturday and we, according to the Football League, find ourselves without a league game this week.
The fixtures currently show us as having a home game against Morecambe this Saturday but maybe, with the two legged FA Youth Cup semi-final against Blackburn coming up, it has been postponed.
The sheer number of games to be played could ultimately cost us. The next two reserve games have already been put back and with so many of the development squad either on loan or leaving the club it will put extra pressure on the youth team players.
And to add to that, we've also a Lancashire FA Youth Cup semi-final to arrange at home against Blackpool.
For now though, we must surely be favourites for the league and that, along with the cup run, would cap a great season.
Below are the week's results, the next fixtures, our goalscorers and the current Youth Alliance League Table.
LAST WEEK'S RESULTS
Tuesday 13th March
Bury 2 Shrewsbury 2
Friday 16th March
Wrexham 1 Carlisle 2
Saturday 17th March
Macclesfield 1 Oldham 1
Morecambe 3 Accrington 1
Port Vale 0 Preston 2
Shrewsbury 0 Rochdale 3
Walsall 2 Burnley 3
Wigan 1 Bury 0
THIS WEEK'S FIXTURES
Monday 19th March
Bury v Macclesfield
Tuesday 20th March
Rochdale v Preston
Thursday 22nd March
Shrewsbury v Walsall
Saturday 24th March
Macclesfield v Walsall
Port Vale v Accrington
Preston v Carlisle
Rochdale v Tranmere
Shrewsbury v Wrexham
Stockport v Wigan
BURNLEY'S GOALSCORERS (LEAGUE AND CUP)
20: Jason Gilchrist
18: Shay McCartan
11: Steven Hewitt
6: Adam Evans, Cameron Howieson
3: own goals
2: Archie Love, Alex Mullin, Aryn Williams
1: Charlie Holt, Lewis Nuttall, Dean Overson, James Taylor
CURRENT LEAGUE TABLE
Team
pld
w
d
l
f
a
pts

Burnley

18

15

0

3

44

21

45

Preston North End

18

13

2

3

44

17

41

Walsall

17

12

4

1

47

13

40

Carlisle United

18

12

0

6

46

25

36

Rochdale

20

10

3

7

41

33

33

Tranmere Rovers

17

10

1

6

35

26

31

Bury

20

8

4

8

41

39

28

Oldham Athletic

21

7

7

7

29

29

28

Stockport County

18

9

1

8

36

41

28

Wrexham

19

7

3

9

33

33

24

Port Vale

18

6

3

9

33

36

21

Macclesfield Town

19

5

6

8

22

31

21

Wigan Athletic

17

5

3

9

22

31

18

Shrewsbury Town

18

5

2

11

27

39

17

Accrington Stanley

20

4

3

13

23

45

15

Blackpool

21

4

3

14

26

59

15

Morecambe

19

3

3

13

29

60

12