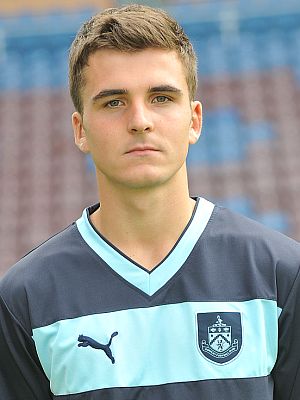 Archie Love played at the back
Burnley fielded a less experienced team than last time and Everton played a much stronger side, but Cameron Howieson came close to a late equaliser.
Jon Stewart, back at Burnley after a loan with Alfreton came to an end, saved a penalty before Everton opened the scoring but the home side did go in front only for Howieson to equalise for the Clarets with a free kick before half time.
But Everton clinched it with a second after the break but overall it was a performance that pleased coach Simon Weatherstone. "It was a great experience for the young players and I was delighted with the performance and the approach of all of them.
"Jon Stewart and Alex MacDonald helped the younger ones through, Stevie Hewitt was excellent and continues to improve alongside Luke Gallagher in midfield. Archie Love did well in a new defensive position alongside Alex Coleman who wore the armband and led by example.
"And Brad Jackson, who is still a schoolboy, took his chance when he came on and did really well, along with another youth teamer Nathan Lowe."
Burnley's team was: Jon Stewart, Callum Richardson (Nathan Lowe), Alex Coleman, Archie Love, Luke Conlan, Steven Hewitt, Luke Gallagher, Alex MacDonald, Cameron Howieson, Adam Evans (Brad Jackson), Jason Gilchrist (Joe Jackson).