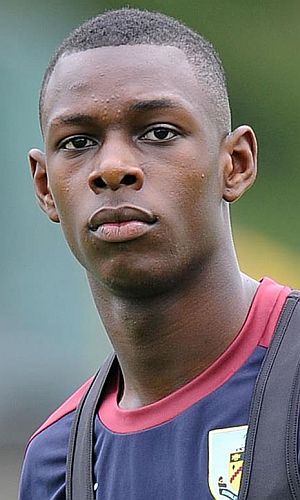 Two goals for Ntumba Massanka
The striker, who graduated from the youth team at the end of last season, scored in each half with central defender Tom Anderson completing the scoring to give Burnley a fully deserved victory that almost 500 in the Bob Lord Stand thoroughly enjoyed.
I was still on my way to the ground when I received a text asking me if I'd seen the surprise name in the Wigan team. I could only guess Chris McCann was playing although that would have been a surprise given he's playing regularly for their first team.
The answer was Chris Eagles who, it turned out, started training with the Latics last week in the hope of winning a contract. He hasn't played since a short term deal with Charlton ended last season.
Eagles was one of their three permitted over-age players and the other two were equally well known. Grant Holt was up front for them with Don Cowie, who played for Watford when Sean Dyche was assistant manager at Vicarage Road, in the midfield.
Burnley used two of the spaces, giving both Kevin Long and Fredrik Ulvestad game time, the latter playing the full ninety minutes with Long coming off just a few minutes before the end.
You never know what to expect in these games. Most of the players on view are now limited mainly to behind closed doors fixtures giving supporters little opportunity to see them play but those in the team tonight were soon receiving applause from the stand.
If there was a surprise in the first half it was that we had to wait until almost half an hour had gone to take the lead as we totally dominated the play. Ulvestad saw an effort superbly saved in the opening minutes after great work from Massanka down the left hand side.
Jamie Frost was close with another good effort and we almost broke the deadlock when Massanka linked up with fellow striker Daniel Agyei.
Finally the goal did come and it was no surprise to which two players were involved. Massanka ran on to a through ball from Ulvestad. He took it round the goalkeeper before finishing with ease.
The goal must have wakened some of the Wigan players. They suddenly had a couple of attacks that came to nothing but generally it was still Burnley on top and the half time score of 1-0 hardly reflected how well we'd played.
Very little changed in the second half and you just wondered whether we might pay for not having increased the lead. Not on your life. Agyei took a knock and was replaced by former Gunner Renny Smith, the player I returned from the pre-season friendly at Sheffield enthusing about. He played his part when we went 2-0 up.
and one for Tom Anderson
The outstanding Frost found Smith on the edge of the box. He chipped the perfect ball for Massanka. The striker had just seen an effort cleared off the line but he wasn't to be denied a second goal this time as he half volleyed home.
His work done, he was replaced by Khius Metz three minutes, leaving to an ovation before taking his seat to watch goal number three from Anderson who powerfully headed home a Brad Jackson corner.
That was it, a 3-0 win. Burnley are in the next round and every one of the players involved played their part. It really was a very good performance and we can look forward to the draw for the next round when the category 2 teams enter the competition.
We've won through along with Doncaster, Exeter, Plymouth and Bournemouth while Peterborough have received a bye.
The category two clubs coming in for the Second Qualifying Round are, from the north, Barnsley, Birmingham, Bolton, Crewe, Huddersfield, Hull, Leeds, Nottingham Forest, Sheffield United and Sheffield Wednesday. The southern clubs are Brentford, Bristol City, Cardiff, Charlton, Ipswich, Millwall and QPR.
The teams were;
Burnley: Conor Mitchell, Luke Hendrie, Tom Anderson, Kevin Long (Alex Whitmore 82), Cameron Dummigan, Jamie Frost, Fredrik Ulvestad, Aiden O'Neill, Brad Jackson, Daniel Agyei (Renny Smith 53), Ntumba Massanka (Khius Metz 71). Subs not used: Danijel Nizic, Arlen Birch.
Wigan: Owen Evans, Luke Burke, Adrian Purzycki, Adam Anson (Sam Stubbs 83), Alex Lingard, Danny O'Brien (James Barrigan 83), Matty Hamilton, Don Cowie, Louis Roubles, Chris Eagles (Sam Cosgrove 67), Grant Holt. Subs not used: Kelland Absalom, Arnie Baxendale.
Referee: M Rawcliffe.
Attendance: 492.