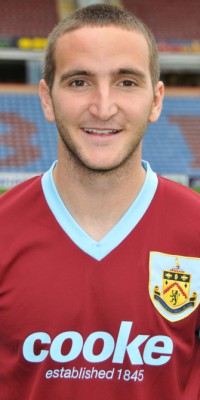 Martin Paterson - back with a goal
Martin Paterson scored early in the game, watched by the entire new backroom team with Graham Alexander and Terry Pashley in charge.
Burnley were much the better side and Hull were thankful to goalkeeper Mark Oxley who made good saves from McCann whilst all of Rodriguez, Ben Hoskin and Fernando Guerrero had efforts blocked.
Just as a 1-0 win looked likely, Hull pulled it back after a Diego Penny punch dropped to Bryan Hughes 20 yards out and he hit it through a crowd of players to score.
Chris McCann played over an hour of the game, and did well, whilst Paterson and Jay Rodriguez both played the full ninety minutes.
The teams were:
Hull:
Mark Oxley, Joe Fox, Nathan Hanley, John Leonard, Danny Wilkinson, Sonny Bradley, Yann Ekra, Bryan Hughes, Caleb Folan (Satelle 45), Ryan Kendall, Jamie Devitt. Subs not used: Bill Ward, Dean Deagle, Gavan Holohan, Lee Wright.
Burnley:
Diego Penny, Richard Eckersley, Ben Hoskin, Nik Kudiersky (Alex-Ray Harvey 66), Brian Easton, Robbie Blake (Chris Anderson 74), Joey Gudjonsson, Chris McCann (Adam Kay 70), Fernando Guerrero, Martin Paterson, Jay Rodriguez. Subs not used: Jonathan Lund, Dom Knowles.