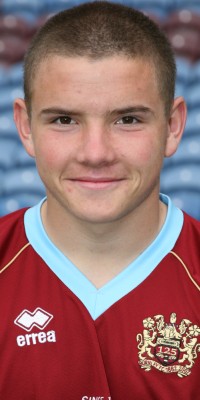 Alex MacDonald - scored Burnley's goal
Quite why referee Tierney allowed the game to run its full course only he will know although by the time the heavens opened we were already 3-0 down and looking very much a beaten side against an older, more experienced and very much stronger Rochdale side.
Burnley took the field with a line up including five second year apprentices and six first years, as inexperienced a side as we've fielded all season. We did start brightly enough and came close to creating a couple of openings following good work from Adam Kay.
It was fairly even stuff up to the half way point in the half but then 'Dale went in front. A ball came in from the left that should have been cleared. It seemed to hit the woodwork at least once in the scramble before they tucked it away.
Ten minutes later we were 3-0 down after they netted twice with shots from outside the box and there really was no coming back from that. There were no further goals in the first half but by the time the players came back out for the start of the second half the conditions were a whole lot different.
Looking at the pitch ahead of kick off I was quite surprised that the game had been given the go ahead. Down the middle, and particularly from the half way line to the goal at the open end, it was shocking. But now the heavens had opened and surface water was beginning to appear.
There was an early goal, Rochdale scoring again to make it 4-0, and all the time the referee was looking over to his fourth official suggesting that he was very close to abandoning it. Incredibly he didn't and we finally got on the scoresheet with our best move of the night.
Kay found James Craggs out wide on the left and the wide man got down the line before crossing superbly for Alex MacDonald, coming in from the right, to finish expertly.
It wasn't to be the start of a comeback and when Rochdale scored their fifth it showed just what a complete farce this game had become. The bull stuck in the mud in our penalty box after keeper Stef Ritchie and an opponent had gone to play it. It was just a matter of who managed to kick it out of the mud first, that was a forward and eventually in it went.
Still he didn't call it off an with the game getting ever closer to the ninety minutes it was obvious that he was going to let it finish. Rochdale got a sixth, nearly got a seventh and then finally the board was held up showing two extra minutes. Almost five minutes later the final whistle blew.
It would be unfair to be too critical of our lads tonight in those conditions against such a more experienced side. It was a game that really did become a pure farce.
The teams were;
Burnley (4-4-2):
Stef Ritchie, Ben Hoskin, Dean Stott, Dan Brown, Thomas Bradley, Dil Chaggar (Liam Newman 45), Adam Kay, Alex-Ray Harvey, James Craggs, Alex MacDonald, Lewis Craig. Subs not used: Dean MacDonald, Chris Lynch, Nik Kudiersky.
Rochdale:
James Spencer, Marcus Holness, Raphale Evans, Lee Crooks, Nathan D'Laryea, Matthew Hughes, Ben Muirhead, Joe Thompson, Ben Wharton, Will Buckley, Martin Donnelly. Subs: Lambert, Farrell, O Williams, Bowyer, S Williams.