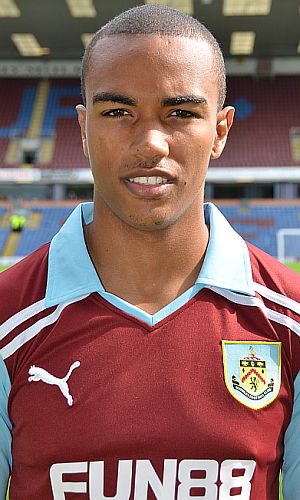 Junior Stanislas scored his first Burnley goal at Morecambe
The Morecambe win was our third game, but just our first win, since we last took a look at the Central League eight weeks ago. Such is the lack of games that there has been no real for any updates and in that eight weeks just a total of seven games have been played, all of which are shown below.
The first of those games came in mid February when Preston came from behind with two late goals to beat Tranmere at Chorley. Michael Kay gave Tranmere the lead just past the hour but that late response from Preston brought goals from Jamie Douglas and Alex Billington to win the game.
That saw them go top of the league and the next two weeks just saw Burnley's failed attempts at climbing back above them. First, Oldham came to Turf Moor and won 3-2. We trailed 3-0 at half time with Matt Smith having scored twice along with Kirk Miller, but goals from Danny Ings and Zavon Hines, for both a first at Turf Moor, we reduced the deficit.
One week on and we still couldn't get back to the top but this time we did get a point in a 1-1 draw against Wrexham. That game saw two late goals with Jay Colbeck giving the Wrexham the lead and Adam Evans, with his second reserve goal of the season, responding with an equaliser.
There was a rush of games that week; the following day Macclesfield faced Morecambe at Moss Rose with the home side winning 2-0. Scorers for Macc were Vinny Mukendi and Jack Lane.
That took us to this week and a full fixture list with six of the seven teams in action. Our win at Morecambe on Tuesday finally took us back to the top and we had to wait a day to see how Preston fared at Wrexham.
There were two games on the Wednesday with Tranmere beating Macclesfield 3-0 in the other with goals from Max Power, Joe Conchie and Joss Ladabie.
With David Unsworth now gone, Preston's reserve team is under the watchful eye of another former Claret Graham Alexander whose playing career looks all but over. Maybe it was the presence of manager Graham Westley that affected them; let's face it a Preston win in front of him is a rare event, and they went down to a 3-2 defeat.
Colbeck, who had scored against us, gave Wrexham an early lead against a Preston side that included Gabor Geypes and Goran Lovre, but North End were level by half time through Keammar Daley.
A shocking mistake by the goalkeeper early in the second half allowed Wrexham to go back in front through Adrian Ciselewicz. Preston again drew level through Luke Clark but it was Wrexham who went on to win it with a goal from Rob Ogleby ten minutes from time that ensured Burnley ended the week on top.
Fixtures are subject to change and Burnley's two for March have already been postponed due to the youth team commitments.
The recent results are below along with the next fixtures, the league's leading goalscorers, Burnley's goalscorers and the current league table.
RECENT RESULTS
Wednesday 15th February
Preston 2 Tranmere 1
Tuesday 21st February
Burnley 2 Oldham 3
Tuesday 28th February
Burnley 1 Wrexham 1
Wednesday 29th February
Macclesfield 2 Morecambe 0
Tuesday 13th March
Morecambe 0 Burnley 4
Wednesday 14th March
Tranmere 3 Macclesfield 0
Wrexham 3 Preston 2
FORTHCOMING GAMES
Wednesday 21st March
Oldham v Wrexham
Wednesday 28th March
Oldham v Tranmere
Wednesday 4th April
Preston v Morecambe
Wednesday 11th April
Wrexham v Morecambe
Tranmere v Burnley
LEADING GOALSCORERS
8: Lewis Alessandra (Morecambe)
6: Wes Fletcher (Burnley)
5: Matt Smith (Oldham)
4: Obi Anoruo (Wrexham), Jay Colbeck (Wrexham), Dominic Knowles (Burnley), Joss Labadie (Tranmere), Cole Stockton (Tranmere), Mustafa Tiryaki (Tranmere)
BURNLEY'S GOALSCORERS
6: Wes Fletcher
4: Dominic Knowles
3: Zavon Hines
2: Adam Evans, Danny Ings
1: Steven Hewitt, Danny Lafferty, Mehdi Lazaar, Joe Jackson, Archie Love, Dave Lynch, Shay McCartan, Junior Stanislas, Ross Wilson
CURRENT LEAGUE TABLE
Team
pld
w
d
l
f
a
pts

Burnley

9

5

2

2

26

15

17

Preston North End

9

5

1

3

17

12

16

Morecambe

9

4

1

4

18

22

13

Tranmere Rovers

8

4

0

4

21

13

12

Wrexham

8

2

4

2

17

17

10

Macclesfield Town

9

3

1

5

17

29

10

Oldham Athletic

8

2

1

5

14

22

7