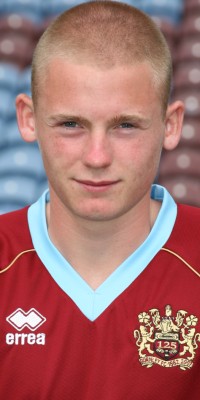 Full back Matt Lomas
The leadership seems to be changing hands on an almost weekly basis but it was more than a surprise to see the Latics forgo the lead. They were expected to win comfortably at Stockport but the loss means they have dropped two places in the league.
The 3-0 win by which Blackpool beat Preston was the biggest victory of the day, but it was equalled by Wrexham who took all three points against Shrewsbury. The other big surprise result was Accrington's win over Carlisle who had been pushing towards the top of the league.
The Morecambe v Rochdale game was called off because of a waterlogged pitch whilst our game at Bury was ruled out because of our FA Youth Cup tie against Arsenal on the Friday.
We are back in action this Saturday when we play Walsall at Gawthorpe. The Saddlers are currently second in the league and have been beaten only twice this season. This will be our first meeting of the season.
Last week's results
Accrington 1 Carlisle 0
Blackpool 3 Preston 0
Bury v Burnley - Postponed
Macclesfield 1 Tranmere 0
Morecambe v Rochdale - Postponed
Oldham 3 Port Vale 3
Stockport 1 Wigan 0
Walsall 1 Chester 0
Wrexham 3 Shrewsbury 0
This week's fixtures
Blackpool v Morecambe
Burnley v Walsall
Carlisle v Preston
Chester v Stockport
Oldham v Accrington
Rochdale v Bury
Shrewsbury v Port Vale
Tranmere v Wrexham
Wigan v Macclesfield
Burnley Goalscorers
10: Wes Fletcher
9: Adam Kay, Alex MacDonald
7: Rob Turner
2: James Craggs, Alex-Ray Harvey, Chris Lynch
1: Ben Hoskin, Nik Kudiersky