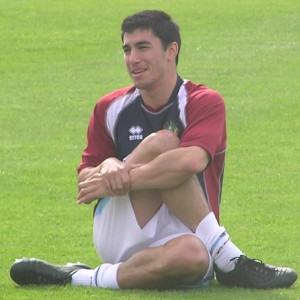 Danny Karbassiyoon - played in our reserve team win against Chester

It was a result and a performance that delighted reserve team manager Billy Barr who said, "We were the better side the whole game, we played some good football and had some great quality played into the box."



The win sees them above the Seasiders and Tranmere on goal difference, those two sides met at Prenton Park with Tranmere running out 2-1 winners courtesy of goals from Chris Dagnall and Steve Davies.



Burnley's win at Chester means we remain the only unbeaten side in the league, a big change from the last three seasons when we have really struggled at reserve team level.



The only other game saw Bury win 3-0 and they were under new management. Reserve team and youth team coach Chris Casper has taken over as manager of the club following the dismissal of Graham Barrow and Chris Beech took over the reserves.



If our reserves are doing well then that is certainly the case with the youth team who still have maximum points following the fifth win of the season against Port Vale last Saturday.



We've still got Preston, Tranmere and Oldham breathing down our necks. They all won on Saturday and all remain just three points behind us. Oldham were again in the goals with four against Wrexham and have now scored a staggering 25.



There's a break this weekend when the Youth Alliance Cup gets underway, the competition we came so close to winning last season before going down in the final against Swindon.



Results:



Pontin's Holiday League



Bury 3 Rochdale 0

Carlisle 5 Wrexham 0

Chester 0 Burnley 2

Tranmere 2 Blackpool 1



Youth Alliance League



Burnley 4 Port Vale 3

Carlisle 2 Chester 1

Macclesfield 0 Bury 0

Preston 2 Rochdale 1

Shrewsbury 1 Tranmere 2

Stockport 1 Blackpool 2

Walsall 0 Wigan 3

Wrexham 1 Oldham 4



Fixtures:



Pontin's Holiday League



No fixtures next week



Youth Alliance Cup (Northern Section)



Blackpool v Bradford

Bury v Shrewsbury

Doncaster v Scunthorpe

Grimsby v Chester

Mansfield v Hartlepool

Oldham v Lincoln

Port Vale v Preston

Rochdale v Notts County

Rotherham v Burnley

Stockport v Carlisle

Tranmere v Macclesfield

Walsall v Hull

Wigan v Chesterfield

Wrexham v York



Click below to see the respective league tables and Burnley's fixtures and results.