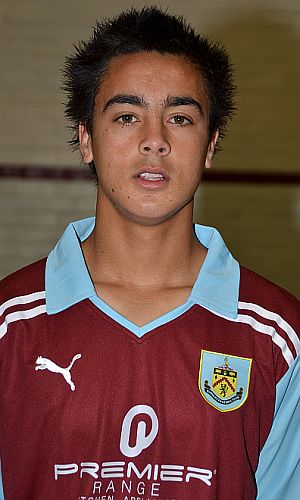 Cameron Howieson, scored twice
It turned out to be a fantastic decision as the team turned in a wonderful performance against a very strong Fulham side. It was brilliant to see such a young side stroke the ball around with supreme confidence but also dig in and keep their defensive discipline when the need arose. It was an outstanding team performance.

However, things didn't start too well as we found ourselves one down after just 7 minutes. Unfortunately, I was still making my way to my seat when the goal went in but I'm told it was a good strike from 25 yards. Burnley reacted well to the early setback though and started to gain a foothold in the game. Conlan and Evans worked a couple of openings down the left side but couldn't quite pick out a Claret head in the middle.

Fulham came close to extending their lead midway through the first half but their onrushing striker shot straight at Cook from close range. It was a let off for The Clarets but it was to be Fulham's last chance of the half as Burnley took control.

Most of the threat had been coming down the left side but Howieson picked the ball up on the right hand side and cut in before unleashing a left footed 25 yarder than stung the hands of the Fulham keeper as he pushed the ball behind. Luke Gallagher on his debut also tested the keeper from the edge of the area as he tried to bend one to the far corner. It was very impressive stuff from Burnley as Hewitt and Gallagher really began to take control of the middle of the park.

Just before half time we won a succession of corners, which eventually led to our equaliser. Howieson whipped the ball in and it somehow eluded everybody as it dropped into the far corner. It sparked a bundle of Claret bodies and was nothing less than an excellent 45 minute display deserved.

The coaching staff must have been delighted with how the first half went but it got even better less than a minute into the second period. Howieson won a free kick near the touchline, deep in Fulham's half. Hewitt fizzed the ball in and Howieson rose highest to flick the ball over the keeper from around 10 yards.

Fulham looked shell shocked as Burnley really began to sense an upset. McCartan had been a threat all night and his blistering pace took him clear of the Fulham defence but his square ball just eluded the onrushing Gilchrist. Howieson was the next to come close as he dropped his shoulder and beat his marker before striking a 20 yarder just wide of the post.

However, the young Clarets weren't to be denied a third as the ever dangerous McCartan exchanged passes with Gilchrist and raced clear of the Fulham defence. Just as it looked like the young striker had taken it too wide, he clipped the ball over the advancing Fulham keeper from the tightest of angles into the top of the net. It was a superb run and finish and nothing less than his performance had deserved.

By this stage Fulham had made 3 substitutions as they desperately tried to get back in the game. Burnley had 35 minutes to play out but were rarely troubled as the defence stuck to their task brilliantly. It's worth pointing out that Fulham boasted Kerim Frei in their attacking ranks, a player who has made 13 first team appearances for The Cottagers this season but even he couldn't find a way past a resilient and very well organised back line.

Errington and Coleman at the back barely put a foot wrong all game as they won everything in the air as Fulham started to pump the ball forward. Thankfully, when a Fulham striker did finally get free, he headed harmlessly over when he should have done better.

Burnley weren't looking troubled though and nearly added to their lead when Lewis Nuttall's header was well held by the Fulham keeper.

The last 3 minutes of stoppage time passed without incident and Burnley had pulled off a magnificent upset. The players celebrated in front of a 100 or so Clarets fans who gave them the reception they so richly deserved. It really was a privilege to be there tonight.

Every single player played their part brilliantly tonight and each one can be very proud of their performance. They played with a composure that belies their years and displayed a tactical awareness and positional acumen that is testament to the coaching staff at the club. I won't be awarding a man of the match as I don't think it's fair to single out individuals in a team that is clearly an excellent unit. I also need to mention Tom Anderson and Archie Love tonight who unfortunately both missed out but who undoubtedly have played a huge part in us getting this far. Hopefully they'll be back for the next round.

I don't need to mention our next opponents but I really hope that the whole town gets behind these lads for the right reasons. Forget that lot up the road and celebrate the fact that our little club from Lancashire has produced a youth team we can all be really proud of. Here's to another fantastic performance and hopefully a bumper crowd at The Turf to cheer these talented boys on.
Fulham: Grant Smith, Jack Grimmer, Sean Kavanagh, Ronny Minkwitz, Joshua Passley, Solomon Sambou, Kerim Frei, Alex Brister (Lasse Vigen Christensen 62), Cauley Woodrow, Omri Altman (Lyle Della Verde 58), Charles Banya (Muamer Tankovic 54). Subs not used: Mahrez Bettache, Daniel O'Reilly

Burnley: Josh Cook, Aryn Williams, Alex Coleman, Jack Errington,Luke Conlan, Adam Evans, Steven Hewitt, Luke Gallagher, Cameron Howieson, Shay McCartan (Lewis Nuttall 79), Jason Gilchrist (Alex Mullin 69). Subs not used: Callum Jakovlevs, Charlie Holt, Luke Daly.