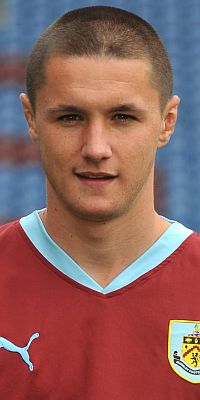 Dominic Knowles - scored the first goal
The rain was simply driving down for virtually the whole game. It had rained for much of the day and last season there would have been no hope whatsoever of a game being played on our ground. This was the first big test for the new pitch and it came through with flying colours and quite simply they could have staged another game on it immediately after the final whistle.
In terms of the game, it was evident early in the game that this was something of a mis-match and there is no doubt that the scoreline could have been a much bigger one, although it has to be said that Wrexham came out with only one intention after the half time break and that was the keep the score down.
It took us less than two minutes to take the lead with Dominic Knowles finishing a good move for his first goal of the season. We built it up down the right hand side with Richard Eckersley and Alex MacDonald and, when the latter pulled the ball back, Knowles made no mistake driving the ball into the bottom corner.
Wrexham didn't know what had hit them in the opening stages. Knowles came close to a second and Michael King had a shot blocked. With Chris Anderson and Alex-Ray Harvey pulling the strings in midfield we were passing Wrexham off the pitch and the front three of Knowles, MacDonald and King were causing them all sorts of problems.
A second goal surely had to come and eventually it did on 33 minutes when Anderson was fouled in the box and MacDonald made no mistake from the spot.
Wrexham hadn't been in it but almost pulled one back just before half time when Craig Mawson spilled a shot and was relieved to see it roll just wide of the post. But it was Burnley who had the last say of the half when Anderson latched on to a clearance on the edge of the box and hammered it home.
3-0 at half time and you wondered what the scoreline might be, but Wrexham boss Dean Saunders, who was in the technical area, opted for a 5-5-0 formation in the second half with 'damage limitation very much the objective.
It worked in that we didn't add to the score until very late in the game, but there were a number of close calls, particularly from MacDonald. He failed to get a shot in with one effort, saw another blocked and then, after a brilliant run from Knowles, he saw his effort superbly saved by the keeper.
Then, somewhat surprisingly, Wrexham pulled one back when a Mathias Pogba header was deflected into the top of the net, but we still had the last word in stoppage time when David Edgar did well to set up MacDonald and this time he made no mistake.
Again, the reserves played some excellent football. Receiving encouragement throughout from the touchline to move the ball they did just that with a style of football that was so pleasing on the eye and I'm sure those there, despite getting a drenching as they left, had thoroughly enjoyed it.
Our next home game is in four weeks time when we entertain Bury but a week earlier we travel to home of Kendal Town to face Morecambe.
The teams last night were;
Burnley:
Craig Mawson, Richard Eckersley, Nik Kudiersky, Chris Lynch, Brian Easton, Alex-Ray Harvey, Chris Anderson, David Edgar, Dominic Knowles, Alex MacDonald, Michael King. Subs not used: Josh Cook, Curtis Woods, Dave Lynch, Joe McKee, Ross Wilson, Mehdi Lazaar, Joe Jackson.
Wrexham:
Danny Ward, Curtis Obeng, Christian Smith, Max Penk, Johnny Hunt (Brian Summerskill 57), Declan Walker, Jamie Morton (Anthony Stephens 55), Liam Shipton, Nat Knight-Percival, Kevin Gall, Mathias Pogba. Subs not used: Jack Deaman, Lee Roberts, Louis Moss.
Attendance:
268.