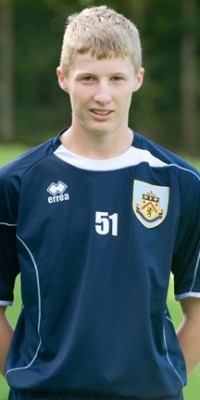 Ross Wilson
I think everyone is just about fed up now of the winter weather but if there has been anything good about it then it's that this tie has been moved from Accrington back to the Turf.
There is no doubt that this is a difficult game for the young Clarets against one of the best youth set ups in the country, and this season is proving to be no exception with them riding high in their academy league.
We are still in the Football League's Youth Alliance League and after a difficult start are doing well with a run of seven successive wins, but we haven't played in over a calendar month because of the Christmas break and the weather.
Coach Terry Pashley, who has been working with the first team this week, said: "It's still a level playing field. It's 11 versus 11 and let's have a right good go.
"There's no doubt we will start as underdogs. They have a massive recruitment policy and go all round the world recruiting their players. We don't have that facility but we have some lads with big hearts and no less ability as well so hopefully we will put on a good show and do ourselves justice.
"You can look at that badge, and the red shirt if you want to but they are young lads trying to make their way in the game. They have got a good start at Manchester United but our lads have got a good start and we are both Premier League clubs now."
Pash added: "It's a great bonus for the lads to be playing at home. It will be a very tough game, no doubt, but one they are relishing and really looking forward to, as I am. And hopefully there may be a half decent crowd comes to support the boys."
The game kicks off at 7:00 p.m. tonight with admission to the Bob Lord Stand only. Prices are £4 adults and £2 concessions.
The Manchester United side is expected to include our former Centre of Excellence player John Cofie who will be getting his first experience of playing at Turf Moor.
Burnley will select from: Danny McDonald, Ed Williams, Jake McEneaney, Dave Lynch, Curtis Woods, Stephen Edwards, Ross Wilson, Joe McKee, Dom Knowles, Liam Newman, Michael King, Tom Anderson, James Taylor, Joe Jackson, Tom Taylor, Dean Overson, Josh Cooke, Stephen Hewitt.