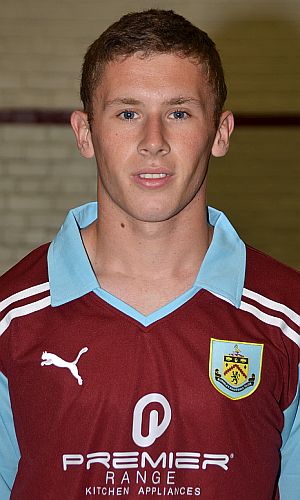 Shay McCartan scored the late winner at West Brom
We have travelled to Craven Cottage tonight as the underdogs as we face a team that beat Manchester City in the last round and a team who are second only behind Arsenal in the Under-18 Premier Academy League.
Fulham coach Kit Symons, the former Portsmouth, Manchester City, Fulham and Crystal Palace defender, is expecting a tough game having seen the young Clarets in action at West Brom in the last round.
"It's going to be a great experience for our boys to play at Craven Cottage on Wednesday night," said Symons. "We had some good games there last season but at the forefront of my mind is the defeat against Watford in last year's FA Youth Cup.
"We have to make sure that doesn't happen again on Wednesday night. It's bugged me ever since so we need to exorcise a few ghosts and it would be great to do that at the Cottage.
"My little soldiers have done fantastically well to get to the Quarter Finals but that's not enough for us – we want to progress and go all the way."
He added: "I went to watch Burnley in the last round against West Bromwich Albion and they were very strong. They put in a really good performance and I think they're about 12 games unbeaten in their League. They're on a fantastic run and they're a really good side.
"They've got some very good individuals but as a team they're very strong and hard to beat. Without a doubt they've got players that can hurt us. I think the front two boys have scored 20 and 17 goals. To have nearly 40 goals between a front pair is exceptional.
"They're a good outfit but we've done our homework on them. We certainly won't be underestimating them.
"I've got my team selection in mind but some of the lads didn't do themselves any harm on Saturday. There were some really good performances. There will be several changes from Saturday's side to the team that will start on Wednesday night. It's about the group of players and it's not about the eleven on the pitch.
"We want to win every game we go in to and it's about the group. It's really important that the group are ready and any subs are ready and everyone plays their part. If we progress in the Youth Cup and continue to do well in the League it will be a collective effort all the way through."
Terry Pashley has been youth team coach at Burnley for 20 years, coming in just as his current partner Andy Farrell was helping steer Burnley out of the Fourth Division. He's twice taken us to the last 16, in seasons 2005/06 and 2006/07, but is now enjoying this extended run in the competition with arguably the best team he's had.
He knows that a win tonight will see us up against local rivals Blackburn Rovers in the next round. "You can't dismiss it, but that's not our focus," said Pashley. "That's hopefully for another day. Everyone is talking about what might be.
"As professionals we have to look to the next game, which is Fulham, and give that all our attention, although I'm not going to deny it would be fantastic."
He continued: "Even starting at Boston, we have tried to make all the preparations and everything we have done as normal as possible. We have tried not to build it up too much. The lads will probably do that themselves in their heads and everyone else will do that, but we have tried to make everything we have done on terms of our preparation and training and normal as we can.
"The difference is that we will go overnight and they have not done that before. They are going to be treated exactly like the first team so that's another thing they will have to cope with, but they will have to have their mindset right for seven o'clock on Wednesday night."
"It will be a big test. It's one we are really looking forward to and we will go down there with the same attitude and mentality as previously and try and win the game," he said.
"I have said to the lads that as you progress in these cup competitions the teams get better and the individuals get better, so their challenge tomorrow with their individual battle becomes paramount.
"We will be looking to win eight or nine of those individual battles. They will be setting out their stall to do exactly the same, so hopefully it will be a good game."
Pashley will hope to have a fully fit squad to choose from and I'm sure it will be a very similar line up to the one that won at West Brom in the last round, although, as we reported yesterday, Luke Gallagher is now available after his long wait for international clearance.
We could line up: Josh Cook, Aryn Williams, Alex Coleman, Tom Anderson, Luke Conlan, Adam Evans, Steven Hewitt, Archie Love, Cameron Howieson, Shay McCartan, Jason Gilchrist. Subs from: Callum Jakovlevs, Jack Errington, Alex Mullin, Luke Gallagher, Luke Daly, Lewis Nuttall.
Clarets Mad wish the team the best of luck tonight. No matter what the result, they've done our club proud this season.