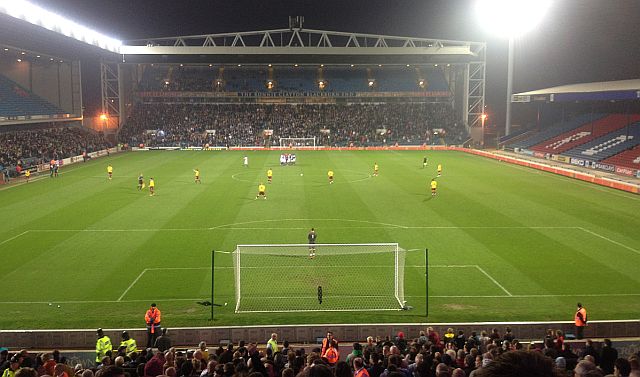 Spurred on by over 3,000 Burnley fans in the Darwen End, the young Clarets gave it a real go against a very strong, physical side, many of whom looked as though they'd been hand picked by Sam Allardyce before he departed.
There is no doubt that Blackburn started the better of the two sides but we defender manfully and in truth they didn't have too many openings. Even so, we were perhaps a little fortunate to be level in the first twenty minutes.
We did start to come into the game and probably conceded the only goal of the game at a time when we were having more of the play. It came in the 33rd minute with a header following a left wing cross.
At that point I feared a second goal could put us right out of the tie, but we hung in and we got to half time without any other real concerns.
We'd done OK, but whatever was said in the dressing room at half time changed things and we took the game to our hosts right from the restart.
Now, we were very much the better side and the home side looked worried with their, at times, over physical approach bringing howls of derision from the passionate Claret support.
That crowd were really urging on the youngsters and they were responding to it but it was far from one way and there was a spell in the middle of the half when they had a few opportunities themselves, one hitting the bar before being cleared.
We kept going though and when Jack O'Connell took out Shay McCartan yet again there was finally some action from referee James Adcock who showed the Blackburn player a second yellow card.
With twelve minutes to go the Clarets really pushed hard for an equaliser. Full backs Aryn Williams and Luke Conlan were marauding forward at will but we just couldn't find it and the final whistle blew with us still that goal behind.
Terry Pashley, quite rightly, sent the players over to the Burnley fans where they received a superb reception.
Behind we might well be, but those lads have done the club proud tonight and we've still got a fantastic chance of making the final.
If you can get there next Wednesday then do, these lads have shown tonight that they'll give it their all.
Well done to all of them tonight.
The teams were;
Blackburn: Urwin, Wylie (Beesley 77), Henley, Mason (Hands 70), Edwards, O'Connell, Osawe, Hanley, Haley (Laverty 89), O'Sullivan, Fernandez. Subs not used: Payney, Daly.
Burnley: Josh Cook, Aryn Williams, Alex Coleman, Jack Errington, Luke Conlan, Luke Gallagher, Steven Hewitt, Archie Love, Adam Evans, Cameron Howieson (Jason Gilchrist 73), Shay McCartan. Subs not used: Callum Jakovlevs, Charlie Holt, Luke Daly, Alex Mullin.
Referee: James Adcock (Nottinghamshire).
Attendance: 10,069.