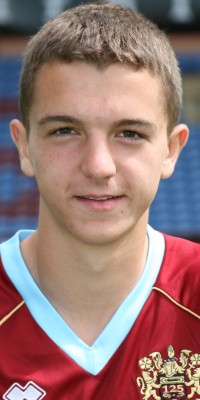 Jay Rodriguez - twice came close to equalising
The only goal of the game, just past the half hour, was followed by the dismissal of Burnley's James Craggs, but the double setback served only to inspire the young side into a performance that deserved more than it got.
Youth coach Terry Pashley was in charge of the side in place of Steve Davis and he was joined by Vince Overson in the dug out whilst there were familiar faces in the away team dug out including Jamie Hoyland.
The first half hour looked to be setting us up for a really good game. Both sides got forward well, both sides created chances and both sides missed them. We did get the ball in the net through Wes Fletcher only for it to be ruled out for offside.
Then came the double whammy that changed the game. Firstly Clarets' keeper Jonathan Sergeant couldn't hold a shot and Higgins netted the rebound to put Preston in front. It was followed two minutes later by the dismissal of Craggs.
It happened right in front of the dugouts and I'm not sure the referee was going to take such severe action until the demands came from the Preston coaches. After it had all calmed down the referee called Craggs over and showed him the red card. I think the referee eventually got it right, it was two footed and had it been the other way round I would have been demanding the same outcome.
Despite being a man down we came close to equalising before half time on a couple of occasions but with the score 1-0 at the interval it looked as though we would have a very difficult second half ahead of us.
It didn't work out just like that and although it was nothing like as free flowing as it had been in that opening half hour, we battled hard and with a little bit of luck might just have sneaked a draw.
Jay Rodriguez was twice unfortunate not to bring us level but probably the best chance fell to right back Dean Stott just a few minutes from the end. He did so well to get through but at the crucial moment he just couldn't get his shot away and in the end the keeper was able to deal with things.
It's only our second defeat of the season and we have a chance to put things right two weeks tonight when we play away against Chester City.
The teams were;
Burnley:
Jonathan Sergeant, Dean Stott, Nik Kudiersky, Chris Lynch, Thomas Bradley, Alex McDonald (Dan Brown 75), Chris Anderson, Adam Kay, James Craggs, Wes Fletcher (Lewis Craig 50), Jay Rodriguez. Subs not used: Stef Ritchie, Ben Hoskin, Matt Lomas.
Preston:
Chris Neal, Michael Aspin, Dylan Adams, Phil Appiah, Mark Bloxam, Dominic Collins, Danny Mayor, Nathan Fairhurst, Ashley Higgins, Paul Gallagher, Matty Mainwaring. Subs: Tom Smythe, Chris Thompson, Ray Shearwood, Tom McMahon, Adam Barton.