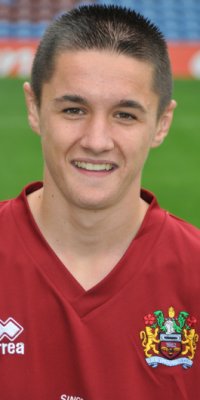 Dominic Knowles scored in 2008
From the reports, alongside the comments from both clubs, it looks as though West Brom were somewhat fortunate in a game that was dominated, in the main, by Reading.
West Brom started well and took the lead on 11 minutes through Alex Jones and the same player doubled the lead two minutes later.
In front of a crowd of 1,402 at Reading, the home side fought back and were much the better side but were only able to pull one goal back through Jake Cooper with 20 minutes to go whilst for West Brom their goalkeeper Jack Rose was in outstanding form.
Baggies coach James Shan said: "We rode our luck a little bit if I'm being honest. Jack made a couple of outstanding saves in the first half and kept us in the game early on.
"Both our goals were good and the second one came from one of our best passages of play. There were fewer chances in the second half.
"They created more chances than us but we were more clinical in front of goal and Jack (Rose) was man of the match for me."
The game at West Brom is still to be arranged but must be played on or before 11th February and it will be the second time in three years we've met in the FA Youth Cup.
In the 2008/09 season it was at Burnley and we won 3-1 with goals from Michael King, Wes Fletcher and Dominic Knowles to set up a tie with Everton in the next round.
The revised 5th round draw is
Swansea City v Manchester United
Manchester City v Fulham
Blackburn Rovers v Stoke City
Charlton Athletic v Tottenham Hotspur
West Bromwich Albion v Burnley
Chelsea v West Ham United
Newcastle United or Watford v Queens Park Rangers
Southampton v Nottingham Forest or Wigan Athletic