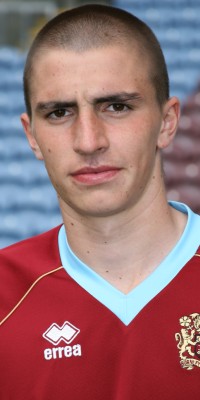 Central defender Dan Brown
All four of them were clear favourites to win but they couldn't manage a point between them. Leaders Bury went down to a 2-0 home defeat against Carlisle and that has taken the Cumbrians into third place, ahead of four other clubs on goal difference just a point behind the young Clarets.
Wigan lost at Port Vale on the Friday whilst Wrexham suffered a 3-1 defeat at home to Stockport. Blackpool, victors over the Clarets have joined the group on twenty points just behind us, and so have Walsall who turned in what must have been a magnificent victory beating Shrewsbury away 8-0. Leading 2-0 at half time they made substitutions and one of those to come on Alan Wilkes netted four times.
Tranmere and Oldham both netted four against teams in the bottom three. Tranmere saw off Accrington whilst Oldham's win came against near neighbours Rochdale.
It's a close league now, Bury still lead by four points but the next eight teams are separated by just two points. Burnley are next in action against Preston this coming Saturday, another away game.
Since the writing of this article it has come to light that the result last Friday between Port Vale and Wigan ended in a 2-0 win for Wigan and not Port Vale although the Football League have reported it as a Port Vale win. The league table has now been updated accordingly with Burnley now in third place.
The weekend results
Blackpool 4 Burnley 2
Bury 0 Carlisle 2
Macclesfield 1 Chester 2
Morecambe 0 Preston 2
Oldham 4 Rochdale 2
Port Vale 0 Wigan 2 (played Friday)
Shrewsbury 0 Walsall 8
Tranmere 4 Accrington 1
Wrexham 1 Stockport 3
This week's fixtures
Blackpool v Accrington
Bury v Oldham
Chester v Tranmere
Morecambe v Shrewsbury
Port Vale v Wrexham
Preston v Burnley
Rochdale v Carlisle
Stockport v Macclesfield
Walsall v Wigan
Burnley Goalscorers (not including friendlies)
7: Alex McDonald
6: Wes Fletcher
5: Adam Kay, Rob Turner
2: Chris Lynch
1: James Craggs, Alex-Ray Harvey, Ben Hoskin