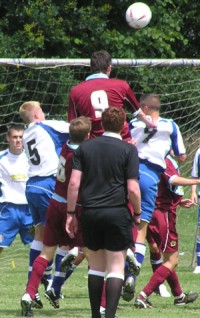 Kyle Lafferty gets in a header at goal but he's pulled up for a foul

Results are hardly important at this stage, more so that players get some match practice ahead of the new season. They did that and we dominated long periods of the game and played some enjoyable and attractive football, the only thing missing was a goal and neither side troubled the keepers too much.



It's a new look youth team although there was only one in today's squad, Tom Blackler, I hadn't previously seen in action. We started well and it was something of a surprise when we fell behind after a mix up at the back.



I don't think we ever looked like conceding again but we did fail to make anything out of the few chances we had. That doesn't matter and it proved to be a good work out for the lads with players being tried in various positions as we made extensive use of the substitutes available to us.



The one player missing was Cayne Hanley, he's out with a stress fracture but there is no indication as to when he will be fit.



The team was: Mark Crossley, Rob Henry, Jack Overson, Martin Reilly, Paul Casey, Marc Pugh, Nicky Platt, Chris McCann, Ali Akbar, Kyle Lafferty, Jay Rodriguez. Subs: Tom Blackler, Dale Underwood, Connor Smith, Rob Turner.