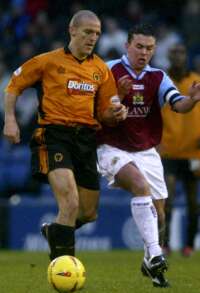 Alex Rae at the Turf on Boxing Day - this week he scored twice against a Preston first team
Wolves are clearly the form team of the moment. On Monday night they recorded their fifth straight win, this time 4-2 over Preston at "home" in Telford. Both teams put out strong sides, with Preston boasting "a side that would be the envy of many a First Division first team!" In the event, their "ten first-teamers" looked anything but, as goals from Alex Rae (2), Cousin Michael Branch and Jimmi Lee Jones put paid to any chances the Lilywhites' had of going top of the league. Preston's reply came via Pawel Abbott and David Healy, who signed off with a goal before his departure the next day for a month's loan at Norwich.
Coach Billy Davies was far from happy with the performance: "There is no hiding the scoreline, to be honest with you. You can brush over the cracks as much as you like but the bottom line is that the result wasn't good enough with the type of team we had out. I'm not suggesting for one second that the players that we had out never tried, but I would say that complacency can come in and first-team players can come in at that level and maybe not work as hard as they should work…..I am disappointed because the young boys have worked hard to put that team in a good position this season, and now you bring all these first team guys in and they let us down badly." Interesting.
The result moved Wolves level on points, although temporarily, with Huddersfield. 204 turned up at Bucks Head for the game, the first time an increase in attendance has been reported by any club this season as reserve attendances steadily decline.
106 Town diehards braved the elements at the McAlpine on Tuesday afternoon to see crisis club Huddersfield fail in their attempts to pull clear of the pack. In fact they had to be happy with a point, coming back from 2-0 down to draw 2-2 with Oldham. All the goals came in the second half, with Gary Browne and youth team striker Scott Vernon seeming to have given the visitors the points. But two goals in the last ten minutes from Chris Senior and Simon Baldry rescued a point for Town, who were fielding their most inexperienced team of the season.
18 year-old "Peruvian sensation" Gianfranco Labarthe finally started a game for the Terriers. Although he was signed last summer, complications with his international clearance and the transfer window meant that he was only eligible to play for Town from January 1st. Added to that the young South American went down with "mild food poisoning", a reaction no doubt to sampling too much of the local cuisine.
Our fine 3-1 win at Chesterfield/Sheffield United on Wednesday afternoon came as welcome relief after five successive defeats. Supremo Ronnie Jepson must be wishing we could play all our games away, as each of our nine points has come on our travels.
However, our position remains critical as later that evening Rotherham beat Walsall 2-1 at a deserted Don Valley Stadium to leave us still playing catch up. Goals from Paul Warne and Alan Lee gave Father Ronnie Moore a nice 50th birthday present, and sweet revenge for the Millers after their 6-1 thrashing at the Bescot earlier this season. Karl Hawley scored for a youthful Saddlers team, who went down to their first defeat since August.
This Wednesday sees the Clarets back at the Turf to take on bottom club Bury. Three points are essential, so if at all possible get down there and give the lads lots of encouragement to lay that home hoodoo finally to rest.
Forthcoming fixtures:
Tuesday, February 4th:
Oldham v Wolves
Wednesday, February 5th:
Barnsley v Sheffield Utd
Burnley v Bury
Tranmere v Rotherham
Walsall v Huddersfield
Leading league scorers:
7 Brother Joe O'Neill (Preston)
6 Gareth Seddon (Bury)
6 Griff Jones (Barnsley)
6 Paul Macari (Huddersfield)
6 Scott Vernon (Oldham)
5 Jimmi Lee Jones (Wolves)

Avon Insurance Premier Division League Table