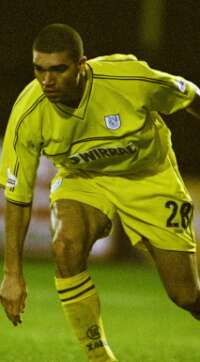 Tranmere's Tyrone Loran impressed to win a place in the first team
In fact, only two games have taken place, with most others falling victim to the weather.
Tranmere took the opportunity to leapfrog over Oldham last week by beating them 2-1 at Vauxhall Motors' Rivacre Park. Chris Killen headed the visitors in front after a quarter of an hour, but the Rovers fought back to lead at the interval through Steven Jennings and Ian Sharps. Oldham dominated the second half and had two goals disallowed, but Tranmere hung on to claim the points.
21 year-old Dutchman Tyrone Loran, signed on loan by the Rovers from KKMC until the end of the season, must have impressed as he was to turn out for the first team the following Saturday in their 2-2 draw at Colchester. No appearance though for the Latics' Sporting Lisbon loanee Lourenco: the 19 year-old has returned to Portugal for family reasons.
The only other game to survive the conditions was of course our 4-1 defeat at league leaders Huddersfield on Wednesday afternoon. Although it was largely a case of experience versus inexperience, Town's reserve coach Jeff Lee still regarded this as one of the best performances of the season. "I don't think that 4-1 was flattering at all," he said. "We played some excellent, fast, attacking football, but we also got stuck in…. We are in January now, and I've only been disappointed with their performance on one occasion. I'm very pleased with their attitude, enthusiasm and commitment."
Town now have a four-point lead over Barnsley as we go into the second half of the season. The Clarets, on the other hand, stay in the second relegation spot.
(Incidentally, our unofficial estimate of the attendance at 120 wasn't too far out: it was in fact 121!)
Next week's fixtures:
Tuesday, January 14th:
Oldham v Rotherham
Preston v Huddersfield
Wednesday, January 15th:
Barnsley v Bury
Burnley v Wolves (7pm)
Walsall v Sheffield Utd

Avon Insurance League Premier Division