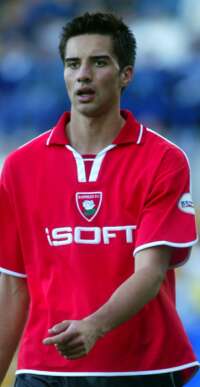 Rory Fallon - scored one of the goals that took Barnsley to the top
After seeing a more experienced side lose 1-0 to Preston last week, Reds coach Colin Walker reverted to virtually the academy side which convincingly beat the Clarets 3-2 in their previous game. The youngsters, most of whom were part of the team that recently knocked Liverpool out of the FA Youth Cup, didn't let him down and produced another fine performance to beat the Terriers 2-0 in front of 204 fans.
Rory Fallon and New Zealander Leo Bertos got the goals (both from Carl Barrowclough crosses) which put Barnsley on top of the division for the first time this season. Town fielded an experienced side, including local hero Andy Booth returning after two months out having suffered one of those all too-common domestic accidents to which footballers seem remarkably prone: he pulled a calf muscle running upstairs.
Tranmere returned to Prenton Park on Wednesday evening to take on Wolves. The most exciting match of the week saw the Rovers go two up by halftime, Robinsons Andy and youth team phenomenon Paul on target. However, the Wolves struck back straight from the restart via midfielder Keith Andrews. They then added two more in the next ten minutes through Leon Clarke and Andrews again to leave the home side, and the 197 fans, stunned. Andrews' goals were fine efforts: the first a 25-yard blaster following a run straight from the kick off, and the second a 40-yard chip over a stranded goalie. Wolves survived a few late scares but held out for the 3-2 win, their fifth game unbeaten.
Oldham fans could have done with just a small portion of that excitement to warm them up at a glacial Boundary Park that same evening. Walsall were the visitors, and the division's leading scorers came away with the points having won 1-0 in what seems to have been a grim encounter. In a classic piece of manager-speak, Saddlers' coach Mick Halsall tried to put on a brave face: "..both sides were dominant defensively…to be fair clear-cut chances were few and far between at either end (in) a competitive game….generally I was pleased with our endeavour.." In other words it was a terrible game and we won 1-0.
Australian Dani Rodrigues headed the late winner for the Saddlers who now go third. After losing their first two games of the season both 3-0, they have now gone seven games unbeaten, scoring 21 goals in the process, mostly at home. The Clarets take a trip to the Bescot next Wednesday and will clearly have to be on top form to get something from the game.
Finally, news of reserve team stalwart Earl Davis, currently on a month's loan at Stalybridge Celtic. Since his arrival Celtic have won three games in a row with Earl having scored in one of them, risen to third in the Unibond Premier and reached the third round of the FA Trophy. Their latest win was 4-3 at home to Barrow on Tuesday evening with Celtic reduced to ten men for over half the game. The Colossus is receiving praise from the supporters, and it would be no surprise if ex-Claret David Miller wanted to extend the loan. Earl and his new chums are in league action at Whitby Town this Saturday. Incidentally, the other ex-Claret making his mark at Bower Fold is Phil "Clint" Eastwood. The 24 year-old has now scored 16 goals in 29 appearances since arriving from Southport in the summer.
Next week's fixtures (including a game for the Clarets!!):
Wednesday, December 11th:
Barnsley v Tranmere
Preston v Oldham
Rotherham v Huddersfield
Walsall v Burnley (2pm)
Wolves v Bury
Leading league scorers:
6 Gareth Seddon (Bury)
5 Paul Macari (Huddersfield)
4 Laurens Ten Heuvel (Sheffield Utd)
4 Stuart Barlow (Tranmere)
4 David Zdrilic (Walsall)
4 Moreira Herivelto (Walsall)
4 Jimmi Lee Jones (Wolves)
Top reported attendances:
720 Walsall v Wolves 21.08.02
594 Huddersfield v Preston 28.08.02
496 Burnley v Huddersfield 21.08.02
402 Burnley v Sheffield United 04.09.02
368 Preston v Wolves 23.10.02

Avon Insurance Premier Division League Table