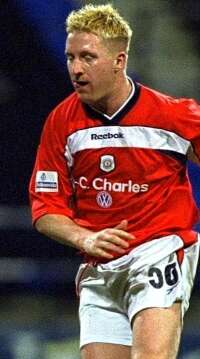 Colin Cramb - back at Bury
Firstly, Bury took on Preston on Wednesday afternoon at Radcliffe Borough's Stainton Park. Bury remained rooted to the bottom (thankfully for us) following a 3-2 defeat. The Shakers fielded two trialists, former player Colin Cramb and our old friend Andy Morrison. Cramb must have impressed, as he signed for Bury today, just as Lenny Johnrose was leaving for Swansea.
The Lilywhites had former Bury loanee Pawel Abott in their team and Cousin Michael Branch of Wolves on trial, but it was Brother Joe O'Neill who once again grabbed the headlines with two more goals. That makes six in his last three appearances, and takes him to the top of the league's scoring list. Coach Billy Davies admitted that Joe is "knocking on the door now"; however, it would appear that Mr Brown must have been singing along to his Loyalist tapes at the time as his signing of South African striker George Koumantarakis has knocked Knocker's sibling back down the pecking order.
Another new signing, Canadian Simon Lynch scored a fine individual goal for Preston's third, with Bury's reply coming from Lee Connell and Matthew Morris. So pleased were Preston with their win that it seems rather to have gone to their heads, claiming that "Davies' side are now sitting pretty at the top of the Avon Insurance League". Sorry, lads, but Huddersfield's 23 points would seem to be more than your 22. Still, when did Preston let reality stand in the way of a good story?
However pitiful the attendance at Radcliffe it was surely greater than the 40 or so brave souls that turned up at the Don Valley Stadium on Wednesday evening to see our 3-1 defeat to Rotherham. Neither Bury nor Rotherham announce attendances for reserve games, and it's pretty clear why not. Millers' fans on the night told us that this pathetic gathering was normal now, as many of their fans refuse to travel behind enemy lines to watch games which they believe should be played at Millmoor. Anyway defeat means that we are now deep in trouble, and facing the prospect of playing the likes of Macclesfield and Doncaster next season.
Away from the league, and Barnsley and Tranmere have made it into the last eight of the Avon Insurance League Cup. Yorkshire's troubled duo Barnsley and Huddersfield met at Oakwell on Wednesday afternoon. In the battle to claim the title of the county's Most Chaotically Run Club, the Reds came out on top 2-1. To compound Town's misery, not only did they find out that they had been eliminated from t'Cup on goal difference, but also that Mick Wadsworth is still manager ("Oh no, he isn't! Oh yes, he is! etc etc..)
Tranmere also made it through, but in somewhat bizarre circumstances. They lost 3-2 at Chesterfield, but still topped their group. What was odd though, was that the Spireites' team included several students from Loughborough University. Even Chesterfield admitted that this was a "rare victory at this level". Perhaps the Saltergate outfit, with their usual commendable financial acumen, offered to pay the students' top-up fees as an added incentive.
Next week's fixtures:
Monday, January 27th:
Wolves v Preston
Tuesday, January 28th:
Huddersfield v Oldham
Wednesday, January 29th:
Rotherham v Walsall
Sheffield Utd v Burnley (at Chesterfield, 2pm)
Leading league scorers:
7 Joe O'Neill (Preston)
6 Gareth Seddon (Bury)
6 Griff Jones (Barnsley)
6 Paul Macari (Huddersfield)
5 Scott Vernon (Oldham)
Lowest reported attendances:
121 Huddersfield v Burnley (08.01.03): afternoon kick off
120 Wolves v Rotherham (12.11.02): at Telford
104 Bury v Burnley (18.09.02): afternoon kick off at Radcliffe Borough
102 Wolves v Bury (11.12.02): at Telford
75 Sheffield Utd v Wolves (27.11.02): afternoon kick off at Chesterfield
40 Rotherham v Burnley (22.01.03): at Don Valley Stadium, Sheffield
(Although Burnley appear three times as the away team in this list, it should be pointed out that on each occasion Clarets fans made up a sizeable proportion of the "attendance.")