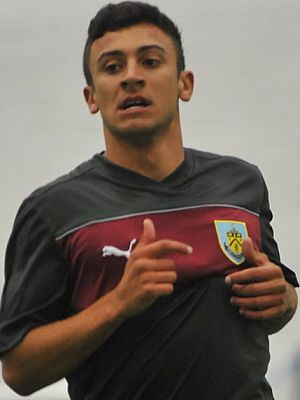 George Porter got the first goal
Luke O'Neill, Kevin Long, Gorge Porter and Alex MacDonald, all of whom played in the recent win at Alfreton, played alongside Danny Lafferty.
After a goalless first half, Burnley came good in the second half with three goals from Porter, Steven Hewitt and MacDonald.
We lined up: Jon Stewart, Luke O'Neill, Alex Coleman, Kevin Long, Danny Lafferty, George Porter, Steven Hewitt, Archie Love (Aryn Williams 60), Mehdi Lazaar (Adam Evans 60), Alex MacDonald, Shay McCartan.
Huddersfield coach Steve Eyre said after the game: "A lot of first team professionals hadn't been able to get a game for Burnley in a friendly last night so they played in this morning's game and at times it was like men against boys.
"Comparitively ou team was very youthful and we finished the game with a 15-year-old, 16-year-old and two 17-year-olds on the pitch, three of which were in the back four.
"For long periods of the game w ewere out of possession so to come in at half time at 0-0 was very pleasing, the boys had worked hard."
The Huddersfield team also included four trialists.