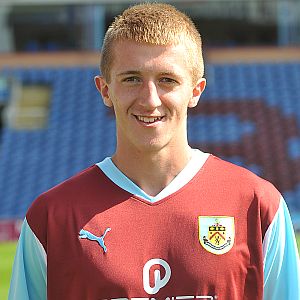 Tom Anderson - injured in collision with Aryn Williams
Getting to the Chapel Road training complex was a little harder than normal, with road works closing several junctions on the motorway and forcing a long diversion. Still, we arrived before kick-off and the only change to the starting XI from last week's defeat at Bury was a return for Anderson, with Jack Errington dropping to the bench.
The match was only a few minutes old though when this was changed, as a collision between full-back Aryn Williams and Anderson saw the big defender stay down and in need of treatment. There was over 5 minutes of work, with input from both physios and a selection of coaches from both sides, before our Captain was led off on a stretcher with his leg immobilised. However, hospital scans have confirmed no serious damage and a potential 2 week lay-off. Errington came into the middle of the defence alongside Alex Coleman, who took over the armband.
The game took a while to get going following the stoppage, and when it did it was Oldham who took charge. Archie Love was dispossessed by former Claret Kyle Riley – it looked like a foul but the referee didn't agree – before striding goalwards and hammering home.
It looked like it should have been 2-0 shortly after when a long range shot seemed to squirm through the grasp of Josh Cook. There was also an Oldham challenge on the line to force home and the appeals went up, but the linesman, apparently suffering from a calf strain, didn't signal that the ball had crossed the line.
The 2nd goal did come though after around 35 minutes with the Clarets once more guilty of giving up possession to easily. Adam Evans was robbed and Riley once more fired home.
We started more brightly in the 2nd half and Love saw a shot shovelled wide by the keeper, but following this we just didn't really create. Shay McCartan was well shackled by the big defender who was marking him and our wide players were having an off day. Oldham meanwhile were guilty of wasting glorious chances with a succession of free headers missing the target.
We saw further experience for our younger players with U-16 Lewis Nuttall coming on for Jason Gilchrist and U-15 Andreas Bianga replacing Steven Hewitt, but were unable to produce a goal. We did create a brief scramble in the Oldham box when McCartan found himself streaking past the full back on the right wing to cross, but Oldham held fast and repelled.
Team:- Josh Cook, Aryn Williams, Luke Conlan, Alex Coleman, Tom Anderson (Jack Errington), Steven Hewitt (Andreas Bianga) Archie Love, Alex Mullin, Adam Evans, Shay McCartan, Jason Gilchrist (Lewis Nuttall).
Subs not used:- Callum Jakovlevs, Jamie Frost.