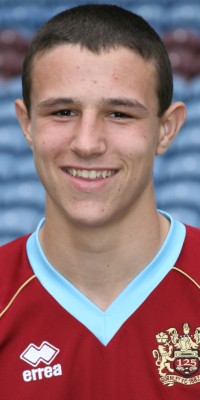 Wes Fletcher - two goals
We'd been promised a shower but the game kicked off with umbrellas up along the touchline, and even the filming of the match had to be changed. The camera, part of our initial purchase from the Clarets Mad Youth Foundation, was on the platform but such was the rain that the filming had to be done at ground level.
It didn't stop the young Clarets putting on an excellent display and it was good to see Wes Fletcher back amongst the goals early in the game. He linked up well with Liam Newman for the first one and then got on the end of a superb ball from left back Jake McEneaney for the second.
A half time lead of 2-0 was hardly a fair reflection of our dominance but the scoreline became even less so in the second half when Bradford City pulled one back. However, that served only to kick start the Clarets. We were 3-1 up within a couple of minutes from an own goal. The keeper did well to save but was helpless as the ball rebounded off a defender.
The Clarets continued to dominate and added two more from substitutes Oliver Devenney and Dominic Knowles, the first after a ball from Alex-Ray Harvey and the second after Knowles was played in by Dil Chaggar, and it could have been even more but Devenney saw a penalty saved after Knowles was brought down in the box.
Just after the fifth we saw a superb piece of skill on the touchline after the ball went out for a throw in. One spectator in his wellies brought the ball under control with one touch and then played it back with an excellently weighted pass. It was good to see Frank Casper back at Gawthorpe.
The visitors pulled one back with just a few minutes remaining but there was never any likelihood of them getting back into the game and the 5-2 win really could have been more.
The lads are off up to Scotland next week starting with Rangers on Monday - all part of the build up towards the new season which gets under way in just over four weeks.
Today's team: Dan MacDonald, Ben Hoskin, Dan Brown, Chris Lynch, Jake McEneaney, Dil Chaggar, Chris Anderson, Alex-Ray Harvey, James Craggs, Wes Fletcher, Liam Newman. Subs all used: Stef Ritchie, Michael King, Dominic Knowles, Oliver Devenney.