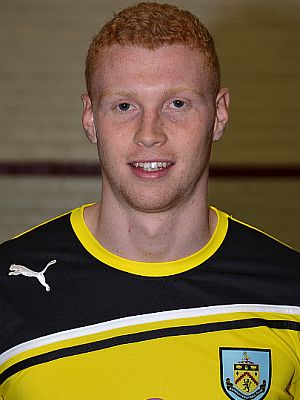 Ben Woodhead plays in goal
Coach Terry Pashley has made four changes to the team that captured the imagination of so many Burnley fans a couple of nights ago with a performance that had posters flocking to the message board to check on progress.
All four players left out could be on the bench and they are goalkeeper Josh Cook, right back Aryn Williams, midfielder Steven Hewitt and striker Shay McCartan.
Ben Woodhead comes in for Cook; he's not eligible for the youth cup competition because of the age restrictions. Centre of Excellence under-16 defender Charlie Holt replaces Williams whilst Hewitt and McCartan's places are taken by Luke Daly, who will start his scholarship next season, and Alex Mullin.
Burnley have won the last ten Youth Alliance League games and a win tomorrow would see them create a club record of eleven. Last week's win took the run to ten which equalled that achieved by the team of three years ago. That team won the first ten games of the season before drawing at Blackpool in game number 11.
One of the two ruled out by illness on Wednesday, captain Tom Anderson, is still unavailable but Archie Love returns to the squad and could be on the bench.
The Burnley team tomorrow is: Ben Woodhead, Charlie Holt, Jack Errington, Alex Coleman, Luke Conlan, Alex Mullin, Luke Daly, Luke Gallagher, Adam Evans, Cameron Howieson, Jason Gilchrist. Subs from: Josh Cook, Aryn Williams, Steven Hewitt, Archie Love, Shay McCartan, Lewis Nuttall.
Kick off tomorrow is 11:00 a.m.