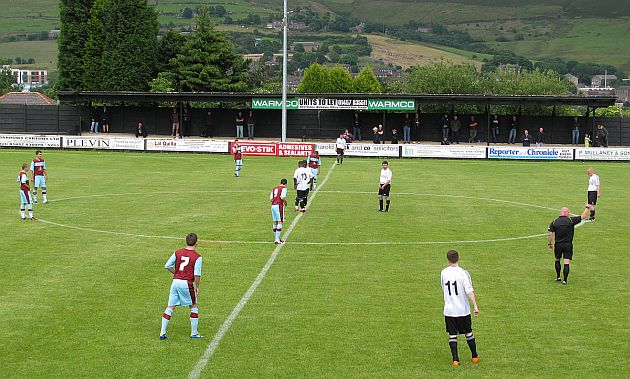 Pre-season about to kick off at Mossley
It's almost ten years since I was last at Seel Park, the ground with a view, and today we arrived in good time to collect our match programmes, and have a chat with some of the people who run the club, before enjoying the first pre-match drink of the season in the Highland Laddie, right next to the ground.
An invasion of women kicking off a hen party livened things up, and their arrival certainly brought an end to the discussions on Burnley's hopes for the new season. Football seemed suddenly to be off the agenda.
Inside the ground a good number of Burnley fans were arriving, so much so that the programmes were sold out long before kick off. On the pitch, the development squad were warming up under the watchful eyes of Jason Blake, John Mullin and Craig Mawson.
I think we'd opted for a position on the terracing just to the side of the stand, that was until just a short time before kick off when the heaven's decide they were going to well and truly open, and so we scurried in to get seats whilst other Burnley fans headed to a position behind the goal where the Mossley Ultras were gathering.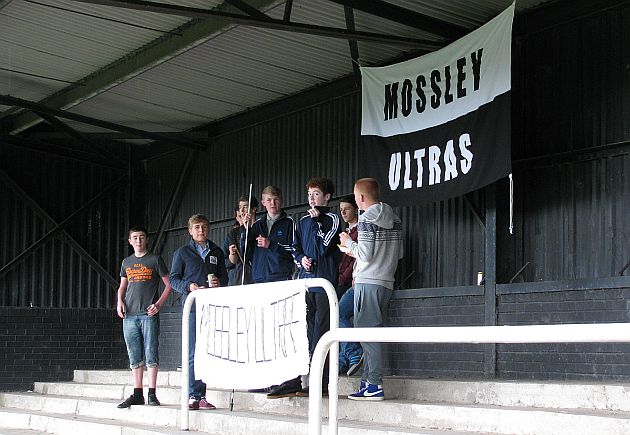 The Mossley Ultras start to gather
For a few minutes things didn't look too good but thankfully the rain disappeared just as quickly and by kick off it was dry with the Clarets attacking the end where the Ultras had grown in size and were informing us that we were no more than a small town in Blackburn.
They'd hardly got going with their little drummer boy when the Clarets struck in only the third minute. We started very brightly and won a corner following a good effort from Mehdi Lazaar. Steven Hewitt sent over the right wing flag kick for Joe Jackson to get the Clarets up and running with a header into the corner.
For a time it looked as though we might go on and win the game easily but too often the passes went astray and when we did get clear the shooting wasn't sharp enough. Even so, the lively Shay McCartan hit a shot against the foot of the post and then, in the next attack, attempted to get a start for the goal of the season as he went for a spectacular volley. I believe the ball has now finally been retrieved.
As the first half went on we grew more and more frustrated as that second goal just wouldn't come and we were thankful to new goalkeeper Conor Mitchell midway through the half. He'd had very little to occupy him but made an outstanding save to deny the home side, tipping a shot from outside the box over his bar.
Wes Fletcher scored the second goal
At half time the score was still 1-0 but any hopes we might have of improving that in the second half suffered as Mossley came more into the game. There were one or two close shaves and they hit the bar with a header when they perhaps should have done better.
Eventually though, we got ourselves back into the game and you sensed another goal might just be on the way. It came, and with six minutes to go from the trusted source of Wes Fletcher.
He'd come close a couple of minutes earlier but when Luke Conlan played the ball across from the left he collected it with his back to goal before turning and hitting his shot right into the bottom corner.
There was time for him to get close to a second too, but this time the goalkeeper did well to deny him. He had to settle for one and Burnley had to settle for two.
At times it wasn't pretty to watch and too often we were careless in possession with our passing not as sharp as it could have been.
But there were certainly more positives than negatives. The lads have got through their first game as they look to shake off the close season rust.
It was good to see Tom Anderson back after his 2011/12 season was so badly disrupted by glandular fever. He and Alex Coleman at the back looked assured. And then there was Archie Love who I thought was as impressive as anyone today.
Now the pre-season moves on to Barrow on Thursday. This should be a much tougher game for us against a side who ended last season in 13th place in the Blue Square Premier League.
The teams today were;
Mossley: Martin Pearson, Shane Birtles, Ben Fletcher, Dave Young, Keil O'Brien, Greg Traynor, Ryan Stewart, Steve Yarwood, Gavin Salmon, Cayne Hanley, Joe Heap. Subs: Brad Yearwood, Xavier Parisi, Dominic Kashindi, Boumbu Boubath, Rick Gleave, Lutel Williams, Mark Haslam, Sam Hird.
Burnley: Conor Mitchell (Callum Jakovlevs 45), Aryn Williams (Jack Errington 71), Alex Coleman, Tom Anderson, Luke Conlan, Steven Hewitt, Archie Love (Luke Gallagher 78), Mehdi Lazaar (Adam Evans 59), Shay McCartan, Wes Fletcher, Joe Jackson (Jason Gilchrist 78).