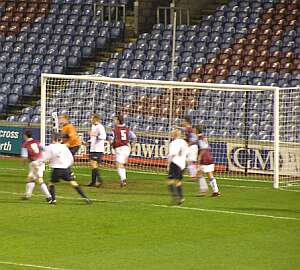 Burnley defend a corner
A crowd of 225 (more than double that which watched the reserves last week) were there to give the lads some support but it was Preston who arrived with the star names including a news reader (Richard Baker) and Dick Tracy (Warren Beattie).
The Clarets got off to a bright start and immediately took the game to Preston who struggled to cope with our attacks down the flanks with both Marc Pugh and Tom Ince getting the better of the visiting full backs.
Preston had their moments but good defending meant that Michael Hale in the Clarets goal was hardly troubled. The same could not be said at the other end and after a couple of good saves and a couple more routine saves Preston keeper Chris Neal made a stunning save to keep out a superb long range effort from Darrel Avery.
Spurred on by the support from the stand we finally got the goal our play had deserved and it came with just five minutes left in the first half. It came from yet another Pugh cross and Alex Taylor got up to head home, very reminiscent of many Billy Hamilton headers.
Neal came to Preston's rescue again almost from the restart when the very impressive Pugh saw the keeper get down low to his left to turn away a goal bound effort. It was the last real action of the first half and the interval came.
What a good half it had been for the Clarets, fully worth their lead and a performance that had really rattled the Weary Whinger's petulant Preston.
Yes petulant they were, physical they were, but they had benefited from the most erratic of refereeing performances from a Mr. Matadar who quite frankly was having something of a nightmare. He was to get worse.
The second half was more even but Preston were having real problems creating anything at all with the Burnley defence on top form and well marshalled by captain Ryan Townsend but then the referee stepped in.
The Blackburn official had made his mark with a whole string of ridiculous decisions and he did seem to have a real problem in keeping his cards in his pocket. Players were receiving yellow cards for next to nothing.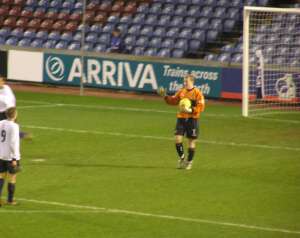 Michael Hale safely gathers the ball deep into stoppage time
And inevitably someone was going to pay the price and it was skipper Townsend who found himself getting a second yellow card with only 22 minutes of the second half gone. It was harsh, very harsh and just to make matters worse for the player he then had to contend with a very public, finger pointing dressing down from coach Pashley, actions that surely have been carried out in the privacy of the dressing room.
Burnley quickly made a change with Cayne Hanley coming off to allow us to bring on another defender in James Heywood and you now suspected it would be back to the walls defending. But that was not the case and we continued to go forward and look for a second goal.
Matadar then did get something right and that was to yellow card the one real nasty piece of work on the pitch, Preston's Iain Howard. The referee indicated that he was being carded for a series of fouls and pointed the areas of the pitch where he had been penalised. He had committed so many fouls during the game that this pointing process could well have taken up a good few minutes.
As the last few minutes approached Preston pushed players up in the search for a goal that would take the game into extra time but for all their pressure they hardly managed a worthwhile shot at goal and after three minutes of stoppage time the final whistle blew with the Clarets through.
There was no doubt that it was the right result, it was an excellent performance and now we await news of our opponents in the next round.
The attendance was 225 and these days that can be considered a very good crowd for a youth cup fixture. But should we be drawn at home, let's just hope we can get considerably more there.
The teams were,
Burnley: Michael Hale, Ross Preston, Gary Carter, Ryan Townsend, Danny Pitham, Marc Pugh, Darrel Avery, Joe Booth, Tom Ince, Alex Taylor (Dennis Greenwood 89), Cayne Hanley (James Heywood 68). Subs not used: Mark Crossley, Rob Henry, James Quinn.
Preston: Chris Neal, Peter Owens (Ashley Scott 57), Ciaran Lyng, David Proctor, David Elebert, Kyle Armstrong, Warren Beattie, Iain Howard, Mark Jackson (Ciaran Tracey 57), Ben Kitchen, Richard Baker. Subs not used: Tom Upson, Matthew Cropper, Anthony Warrener.