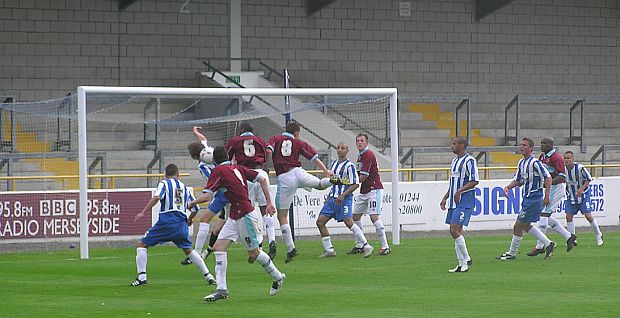 Burnley on the attack in the reserve game at Chester in 2005
The familiar face is striker Chris Iwelumo who spent the 2010/11 season with the Clarets, netting 11 league goals in 29 starts for the club, but the big news at Chester is the temporary manager who will replace, for one night only, regular boss Steve Burr who cannot be at the game.
Chester, as Burnley did some years ago when Stan Ternent was banished to the stands, have auctioned the place and lifelong supporter Bobby Browne will take his place alongside assistant boss Jon McCarthy.
Tonight will be my fourth visit to what was called the Deva Stadium and now goes under the name of the Swansway Chester Stadium through a sponsorship deal with a local car dealership.
All three of the previous visits have been significant one way or another. The first of them was back in 1992, a 3-0 defeat in what was a shocking performance from the Clarets.
It might not have been too significant for us but it was for our hosts. It was the first ever league game played at the new stadium and signalled a return to city for the then named Chester City. The result could have been far worse for us with Marlon Beresford saving a penalty on what was his second appearance for the Clarets. Paul Comstive, who sadly passed away at the end of 2013, was one of the Chester scorers against his former club.
Two seasons later we won there 2-1 in an FA Cup tie with a David Eyres penalty and a winner from Adrian Heath. It was the first Burnley game ever to be screened live by Sky.
The third of them was a game that certainly attracted a lot less attention than a first ever league game or a first for Sky, but it was a first as Danny Karbassiyoon, having recovered from a pre-season injury, finally made his Burnley debut in a Central League game in September 2005.
We won the game 2-0 with goals from Kyle Lafferty and Connor Smith and Danny played 75 minutes before he was replaced by 16-year-old apprentice Jay Rodriguez for the last quarter of an hour.
Tonight's a first too with Michael Jolley taking charge of a Burnley team for the first time.
There has been no indication as to what our line up might be but it is expected to be a mixture of development squad, youth squad and potentially some trialists with Tamworth's Kaiyne Woolery a favourite to get a game.
The first team squad returned from Austria yesterday so it would be a surprise to see any of the young pros who were on that trip feature, such as Tom Anderson, Cameron Dummigan and Jason Gilchrist.
Chester have had a difficult time in recent years. They were relegated from the Football League in 2000, returned four years later but again lost their place in 2009. That was nothing compared to the problems off the field and by 2010 they found themselves expelled from the Conference and the club was wound up.
They'd been known as Chester City since 1983 but a new club was formed with the original name of Chester and they've worked their way back up the non-league pyramid, reaching the Conference, one division below the Football League, a year ago.
It wasn't a successful first season back at that level. They were relegated but the departure of Hereford, expelled from the league themselves, brought them a reprieve and they again will be playing in the Conference this coming season.
So far they have beaten both Marine and Upton this pre-season and followed that up last Saturday with a draw against Crewe and they are expected to select from the same players tonight.
Those who faced Crewe were: Danby, Disney, Brown, Charnock, Roberts, Mahon, Rooney, James, Menagh, Thompson, Iwelumo, Hall, Taylor, Kay, McConville, Hobson, Dickson, Rea, Riley.
Kick off tonight at the Swansway Chester Stadium is 7 p.m. and admission is £5 with under 18s admitted free of charge.