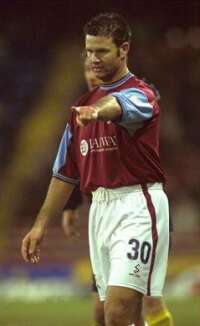 Tony Ellis - one of just two experienced players in the side
However, unlike Monday's dismal showing against Sheffield United, this was a pleasing performance by a much-changed youthful side. Of the initial eleven, only Andy Payton had actually started a first team game, and by the end of the match we were fielding eight members of the youth team.
Damson Park is the home of Solihull Borough of the Doc Marten's First Division. The ground is new, although two sides are still to be developed. Behind one goal there is covered standing, but the majority of the reasonable crowd were housed in the comfortable main stand which probably holds 300 or so. An interesting and thoughtful addition was the positioning of a large cheeseplant at the back of this stand, no doubt adding to the overall feng shui, but I'm sad to say that it was in desperate need of a good watering.
Whilst the tinny tannoy entertained us with a somewhat eclectic choice of music, one minute Jerusalem, the next Tom Hark, the locals became somewhat agitated as a familiar figure came ambling along. The Club Destroyer himself, Steve Bruce, had deigned to honour us with his presence. "Yow goowin Evtn, Stoive?" quipped a Brummie wag. Steve just glared and continued to press the flesh.
As at Stockport on Saturday this ground is a planespotter's paradise as Birmingham's Elmdon airport is adjacent, so as the latest departure came hurtling down the runway the teams took to the field, the Clarets accompanied by a mascot.
Liam Eves was making only his second start, O'Neill his third, and after his sound display on Monday John Williamson was given the captain's armband, a well-deserved honour.
In 4-4-2, we lined up: Luigi Cennamo; Andrew Leeson, Earl Davis, John Williamson, Liam Eves; Mark Rasmussen, Joel Pilkington, Andrew Waine (Richard Chaplow 25), Matthew O'Neill; Andy Payton (Anthony Shandran 63), Tony Ellis (Damien Hindle 80). Subs not used: James Salisbury, Paul Scott.
Blues' coach Keith Bertschin fielded several players with first team experience in a strong-looking side: Clint Davies, Jerry Gill, Tony Capaldi, Graham Hyde, Joey Hutchinson, Sonny Parker, Jon McCarthy (capt), Curtis Woodhouse (Peter Gilbert 63), Dele Adebola (Chris Ward 77), Craig Fagan, Tresor Luntala. Subs not used: Ross Diamond, Neil Barnes, Mark Allen.
Both sides started brightly and it soon became apparent that one of the main features of the night would be the Davis-Adebola duel. The former Clarets' target, returning after along lay-off following a collision with a post, drew first blood with an early shot. This did not trouble Cennamo, but it certainly troubled the spectators as it sailed over the roof of the stand and into the car park behind.
However after 25 evenly-contested minutes the Clarets suffered a double blow. First, influential midfielder Andrew Waine received a painful kick to his side and after lengthy treatment had to come off. Before Richard Chaplow could replace him, Adebola was played through and calmly slotted the ball past Lui for 1-0.
Birmingham then began to apply some pressure, and Lui had to make a good save from Woodhouse. But it was Burnley who created the best chance of the rest of the half. Matthew O'Neill embarked upon a great run down the left, beating two men, before crossing perfectly for Payton. Normally Payts would have buried it, but his headed flick was weak and the goalie saved easily.
Within a minute Mr Predator had another half chance following good work by Chaplow, but his first touch let him down and the defence scrambled the ball away.
1-0 down at half time then, but a spirited performance.
Half times at reserve games are always interesting, no matter where you are. There's always the chance of spotting a familiar figure, and tonight was no exception as seated not far from Ronnie Jepson's travelling Claret and Blue Army was that bloke who walks to all the grounds in the country. Armed with a knapsack, a copy of the Football Traveller and a multitude of coloured pens, he was busy entering what seemed like a whole Rosetta Stone of hieroglyphics into a battered Victorian ledger. Hmmm. Unfortunately, I just couldn't summon up the courage to ask him what symbol he was using for a cheeseplant.
Under a gibbous moon the second half started with Blues once again pressing forward, although Lui was rarely tested. In fact we should have equalised in the 61st minute when Elvis played Ras through, only for him to shoot wide as the goalie came rushing out. Within a minute it was 2-0, as a tame-looking cross somehow found its way through to the far post, and Capaldi steadied himself before blasting the ball past Cennamo.
Shandran, the forgotten man of Burnley, then replaced Payton and almost pulled one back in a déjà vu of the Rasmussen effort.
From then on it was all Burnley as with an average age of 17 in midfield we played the ball about well, forcing a series of corners and coming close several times. Eves and Shandran shot narrowly wide, Pilkington had a goal-bound effort deflected round a post with the goalie beaten, and a thundering Earl header from a corner was only inches over.
As a final mysteriously green squiggle went into the ledger the ref blew for time signalling a mad dash to the exit from the crowd to check on any Adebola-damage to their cars.
Although the two defeats this week have severely dented the reserves' title aspirations, the Supremo will have drawn many positives from this performance. Davis, Waine and Pilkington must surely now be pushing for a place in the first team squad. O'Neill, Rasmussen, Leeson and Eves continue to impress. Chaplow and Hindle gained some more invaluable experience, and Williamson justified his captaincy.
However, as we know Stan is not keen on letting boys do men's jobs. So no doubt they'll just have to crack on waiting in the wings and see where it takes them. Don't be surprised to see Lenny and co warming the first team bench for the rest of the season.