For a non-academy club to take its team to the last four is remarkable but remarkable is what our lads, under the guidance of Terry Pashley and Andy Farrell, have been this season and they deserve this big semi-final against our fiercest rivals.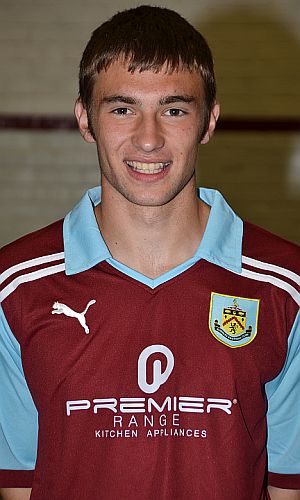 Alex Coleman, no reason why we can't beat Blackburn Rovers
When I sat in the freezing cold of York Street, Boston, back in December watching Jason Gilchrist notch a hat trick in a 7-0 3rd round win, I could never have envisaged us going this far in the competition. I just hoped to go as far as possible, maybe with some help with the draws.
But we didn't get much help. We got Ipswich, West Brom and Fulham, all academy clubs. It didn't stop us, we've beaten all three and here we are tonight with the biggest game imaginable.
Last night, at Ipswich, three Burnley fans spoke to me having seen these lads at Fulham for the first time. All three were enthusing at the way we played that night.
And so, to tonight. There just had to be some disappointing news and that comes with captain, and Burnley born, Tom Anderson missing out. Central defender Tom was ruled out of the Fulham tie with illness. He hasn't recovered and isn't likely to for the second leg unfortunately.
He's been a rock at the back this season but his absence gives two other players an opportunity. North Easterner Jack Errington will step into his place alongside Alex Coleman and it is Coleman who will take the captain's arm band.
Whilst not quite a Burnley lad, he's from out in the sticks of the Rossendale Valley, he's very much a Claret and there will be no one prouder to pull on his Burnley shirt tonight and lead our team out at Ewood.
Alex is an all round sportsman and has a Lancashire League half century to his name with Haslingden, and ahead of the game he said: "If we give it 110% and we play like we know we can then there's no reason why we can't beat Blackburn Rovers. The more you enjoy it, the more likely you are to do well.
"I think if you look at the stats, not many of us are going to play on Premier League grounds, so we've got to try and enjoy it as much as we can and realise just what an achievement we've made to play on these grounds.
"It's all the lads have been talking about for the last two weeks so we can't wait to get out there, pull on that shirt and give it all we've got."
He added: "I think the anticipation of playing Blackburn Rovers certainly spurred us on through the Fulham game, and to play Blackburn on Turf in front of everyone, that was the real drive.
"School teachers have been asking for tickets, everyone's going to be there, so it's a bit of added pressure you put on yourself, but we'll try an approach it exactly the same way as we've approach everything else."
The teams, that's both ours and Blackburn's, will not have played in front of the sort of crowd they can expect tonight, either in numbers or passion. They draw has caught them all up in the rivalry that exists between us and we can only hope that those going will do so to support those kids who have done our clubs proud.
Make no mistake, our team have done us proud this season, and it is a long time since there has been such interest in the youth team. There's always been some on this site, and the message board, with our coverage of the games and of course the successful Clarets Mad Youth Foundation, but the last few days have seen a clamour for tickets with many seeing these players for the first time.
Those lads, other than the disappointing loss of Anderson, will be at full strength but in a switch we will play with Luke Gallagher in midfield and Shay McCartan partnered by Cameron Howieson up front with Jason Gilchrist missing out.
The team is: Josh Cook, Aryn Williams, Alex Coleman, Jack Errington, Luke Conlan, Luke Gallagher, Steven Hewitt, Archie Love, Adam Evans, Cameron Howieson, Shay McCartan.
The substitutes haven't been confirmed but are likely to be from: Callum Jakovlevs, Charlie Holt, Alex Mullin, Luke Daly, Jason Gilchrist, Lewis Nuttall.
Good luck to the lads tonight and well done on the fantastic achievement of reaching this semi-final.