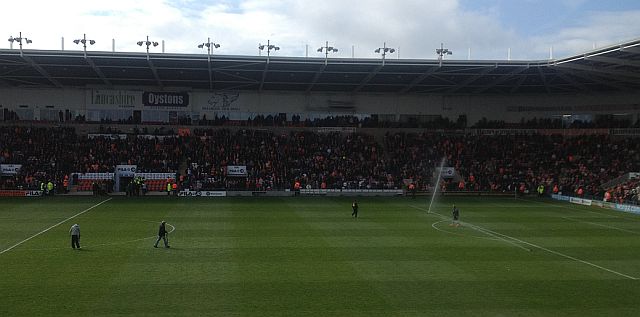 He scored the winning goal for Middlesbrough in their televised game against Southampton on Saturday. Had he not scored that goal, and had the game ended 1-1, there would have been nothing left to play for and both the BBC and Sky would have been scratching their heads at what to show on Saturday.
As it happens, that goal has kept things going. With a 1-1 draw the whole season would have been over with on Saturday night. Reading and Southampton would have been promoted, West Ham, Blackpool, Birmingham and Cardiff would have been in the play offs with Portsmouth and Coventry joining Doncaster through the trap door into League One.
But that goal, whilst ensuring Reading were champions, allowed West Ham the opportunity to fight Southampton for second place and left Middlesbrough still in with a chance of making the play offs.
The television companies have therefore gone for the Southampton and West Ham games, and if Southampton beat Coventry they go up, if they draw then they will go up unless West Ham beat defensive experts Hull by four goals or more.
It's looking like Southampton with West Ham in the play offs with Blackpool and Birmingham. They will be joined by Cardiff if the Welsh club avoid defeat at Crystal Palace but should they lose and Middlesbrough win at Watford then the Teesside club will take the last play off place.
Down at the bottom it's all over. Portsmouth and Coventry knew what they had to do to avoid the drop. They needed two wins with Bristol City failing to win either of their last two games. It all went wrong.
Bristol City beat Barnsley 2-0 with the second coming from the most outrageous penalty award of the season from controversial referee Darren Deadman, but nothing mattered with both Portsmouth and Coventry losing at home.
For Portsmouth, it will be football in the third tier of English football for the first time since the 1982/83 season and for Coventry even longer, they haven't played there since winning promotion to the second division in 1964.
And so it is farewell for sure to Reading, Portsmouth, Coventry and Derby. We already knew that Charlton were joining us along with at least one of the Sheffield clubs and on Sunday a Championship place was confirmed by Wolves whose season has ended in disaster and relegation from the Premier League.
That means the three clubs promoted in 2009 - Wolves, Birmingham and Burnley - have now all suffered relegation.
Nothing much to play for now, for most of us just the last games, the parade of players around the pitch and then a longer than usual sixteen week break before the season starts again.
Below are the most recent results, the stats, the leading goalscorers, each club's red and yellow card count, the highest and lowest attendances and the final Championship fixtures of the 2011/12 season.
The Results
Saturday 21st April

Blackpool 4 Burnley 0

Ipswich Town 0 Millwall 3

Brighton & Hove Albion 1 Birmingham City 1

Middlesbrough 2 Southampton 1

Bristol City 2 Barnsley 0

Peterborough United 2 Watford 2

Cardiff City 1 Leeds United 1

Portsmouth 1 Derby County 2

Coventry City 0 Doncaster Rovers 2

Reading

2 Crystal Palace 2

Hull City 2 Nottingham Forest 1

Monday 23rd April

Leicester City 1 West Ham United 2
The Stats

Biggest Win

Blackpool 4-0 v Burnley (home)

Total Goals Scored

35 (18 home - 17 away)

Player Scoring Most Goals

2 - Andy Keogh (Millwall)

Highest Attendance

25,109 - Cardiff City v Leeds United

Lowest Attendance

8,725 - Peterborough United v Watford

Total Yellow Cards

29

Total Red Cards

2

Most Cards in a Game

Brighton & Hove Albion v Birmingham City (5Y) Ref: Nigel Miller
Leading Goalscorers (League Only)

27

Rickie Lambert (Southampton) - includes 9 penalties

20

Ricardo Vaz Te (West Ham United) - includes 1 penalty - (10 with Barnsley)

18

Ross McCormack (Leeds United)
Billy Sharp (Southampton) - includes 1 penalty - (10 with Doncaster Rovers)

17

Matty Fryatt (Hull City) - includes 2 penalties

16

Charlie Austin (Burnley) - includes 1 penalty
Marlon King (Birmingham City) - includes 2 penalties

15

Darius Henderson (Millwall) - includes 2 penalties
David Nugent (Leicester City)
Kevin Phillips (Blackpool)
Jay Rodriguez (Burnley) - includes 3 penalties

14

Michael Chopra (Ipswich Town)

13

Marvin Emnes (Middlesbrough)
Robert Snodgrass (Leeds United) - includes 2 penalties

12

Chris Burke (Birmingham City)
Carlton Cole (West Ham United)
Adam Le Fondre (Reading)
Jevin Nolan (West Ham United)
Paul Taylor (Peterborough United)
Chris Wood (Bristol City) - includes 1 penalty - (9 with Birmingham City)
Hat Tricks
Date

Player & Game

20/08/11

3: Lee Tomlin - PETERBOROUGH UNITED v Ipswich Town

10/09/11

3: Rickie Lambert - SOUTHAMPTON v Nottingham Forest

11/09/11

3: Chris Wood - BIRMINGHAM CITY v Millwall

12/10/11

3: Darius Henderson - Leicester City v MILLWALL

02/11/11

3: Jonjo Shelvey - Leeds United v BLACKPOOL

19/11/11

3: Rickie Lambert - SOUTHAMPTON v Brighton & Hove Albion

26/12/11

3: Matthew Phillips - Barnsley v BLACKPOOL

31/12/11

3: Ricardo Vaz Te - BARNSLEY v Leeds United

21/01/12

3: Darius Henderson - Barnsley v MILLWALL

31/01/12

4: Nikola Zigic - Leeds United v BIRMINGHAM CITY

26/02/12

3: Rickie Lambert - Watford v SOUTHAMPTON

17/03/12

3: Rickie Lambert - Millwall v SOUTHAMPTON

20/03/12

4: Garath McCleary - Leeds United v NOTTINGHAM FOREST

31/03/12

3: Radi Majewski - Crystal Palace v NOTTINGHAM FOREST

31/03/12

3: Charlie Austin - Portsmouth v BURNLEY

14/04/12

3: Ricardo Vaz Te - WEST HAM UNITED v Brighton & Hove Albion

17/04/12

3: Matty Fryatt - HULL CITY v Barnsley
Disciplinary Record (League and Cup)

Club

Y

R

Y

R

Club

Y

R

Y

R

League

Total

League

Total

Barnsley

61

2

64

2

Ipswich Town

55

5

56

5

Birmingham City

63

3

68

3

Leeds United

73

9

79

9

Blackpool

53

2

56

3

Leicester City

60

9

68

9

Brighton and Hove Albion

91

8

105

8

Middlesbrough

75

7

78

7

Bristol City

80

7

82

7

Millwall

77

2

84

2

Burnley

69

2

77

2

Nottingham Forest

60

5

65

5

Cardiff City

57

0

73

0

Peterborough United

53

2

56

2

Coventry City

55

3

57

3

Portsmouth

75

4

82

4

Crystal Palace

55

2

59

3

Reading

57

1

60

1

Derby County

58

1

58

1

Southampton

52

4

55

4

Doncaster Rovers

70

3

72

3

Watford

68

3

70

3

Hull City

70

1

75

1

West Ham United

66

6

68

7
Highest and Lowest Attendances

Highest

Lowest

Att

Fixture

Att

Fixture

34,936

West Ham United v Coventry City (02/01)

6,351

Peterborough United v Cardiff City (18/10)

34,900

West Ham United v Crystal Palace (25/02)

6,392

Peterborough United v Millwall (06/03)

34,749

West Ham United v Barnsley (17/12)

6,717

Peterborough United v Reading (20/03)

34,650

West Ham United v Doncaster Rovers (10/03)

7,004

Peterborough United v Bristol City (18/02)

33,465

West Ham United v Portsmouth (10/09)

7,540

Peterborough United v Blackpool (10/03)

33,366

Leeds United v West Ham United (17/03)

7,555

Peterborough United v Portsmouth (28/01)

33,350

West Ham United v Reading (31/03)

7,572

Doncaster Rovers v Millwall (20/03)

33,010

Derby County v Southampton (15/10)

7,650

Doncaster Rovers v Watford (26/11)

33,010

Derby County v Leeds United (26/12)

7,778

Doncaster Rovers v Bristol City (27/08)

33,010

Derby County v Nottingham Forest (17/03)

7,901

Peterborough United v Burnley (17/09)
The Final Fixtures
Saturday 21st April

Barnsley v Brighton & Hove Albion

Leeds United v Leicester City

Birmingham City v Reading

Millwall v Blackpool

Burnley v Bristol City

Nottingham Forest v Portsmouth

Crystal Palace v Cardiff City

Southampton v Coventry City

Derby County v Middlesbrough

Watford v Peterborough United

Doncaster Rovers v Ipswich Town

West Ham United v Hull City