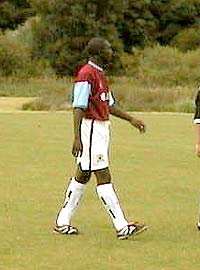 Earl Davis - youth team captain
It will now go ahead, still at Gawthorpe and there's a surprise, but will now be played this afternoon with a 2:00 p.m. kick off.
Carlisle are one of the sides that have joined the second division of the Merit League from the North West Conference of the Youth Alliance League and as such are a side we have played twice already this season.
Back in September we lost up at Carlisle 2-0 in a game that we totally dominated, they were the first points we dropped this season. However we were able to exact some revenge a couple of months later with a 6-1 win, our best win of the season so far.
Andrew Waine netted a couple of goals in that game and there were further goals from Liam Eves, Joel Pilkington, Damian Hindle and Paul Barrett.
If you can get down this afternoon then go and give the young lads some support.
Burnley v Carlisle United – Gawthorpe 2:00 pm today

Fixtures and results

League Table