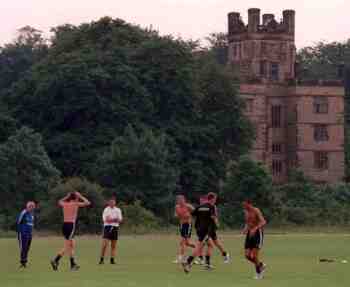 Gawthorpe on a good day
There's been an awful lot of weather lately. Elizabethan TV weatherman King Lear summed it up well above, but then he was as mad as a kipper. Literary scholars have long debated the exact site of the blasted heath in Shakespeare's mythical Britain. One trip to Oldham for a youth team match would have shut them up for good.
This Saturday Terry Pashley's youngsters bring to an end their Football League Youth Alliance North-West Conference campaign with a home fixture against champions Tranmere. Don't count on it! Unless there's a major drought in the next couple of days the game will probably be switched to Birkenhead as Gawthorpe currently resembles a remote lochan somewhere in the Highlands of Scotland. After all, Monday's game was diverted to Oldham; only a truly desperate situation would warrant that.
But that's not all. A glance at the table shows that the young Clarets have another game to play in their quest to pip Wigan to a place in the top three, thereby qualifying for the Premier Section of the new Merit Division. It's another previously postponed home game, this time against bottom club Rochdale. Should be a safe three points. Not so, unfortunately, as it's unlikely that the game will take place.
The Football League has confirmed to us today that all fixtures in the Youth Alliance must be completed by this Saturday. The Merit League is due to start the following weekend, and the draw for this competition takes place during the week. The deadline will not be extended as an extra week has already been granted to the clubs. Therefore it looks like we're going to miss out unless a dry venue can be found either tomorrow or Friday (neutral is acceptable).
However it's not just as simple as that as Rochdale have to play another game before Saturday, away at Blackpool. But then Blackpool have four fixtures left with three days remaining! Carlisle have three and Bury two, etc etc.
So how are the clubs going to fit these in? The answer is, they aren't. All fixtures not played by Saturday will be scrubbed, meaning that the youth team's division is going to end as the dampest of damp squibs. The final table will be farcical.
However what it will show is that the team which completes its fixtures is most likely to do well. The top two "promotion" positions are currently held by Tranmere and Preston who play their final games on Saturday. (Not so coincidentally they also occupy two out of the top three positions in the reserves' league.) Both clubs have excellent youth systems, but just as important they also have excellent facilities. Several times this season they have been able to switch away games when the "home" venue was unplayable. So this Thursday Carlisle will play their home game at Preston. For all their hard work, including some excellent performances such as the recent 4-0 thrashing of Preston, it seems that the youth team could miss out on a top three position through no fault of their own.
Does it matter? After all, some of you may be saying, it's only the youth team. Well yes, it does matter, a lot. Stan and Barry Kilby have frequently told us that we are in effect a small club "punching above our weight." We just don't have the finances to be able to spend money on players in the amounts that several contributors to the message board would like. The alternative of course is to develop our own talent. To do that we need to be attracting players such as the likes of Jason Koumas away from Tranmere to us instead. But the sight of a swamped and somewhat run-down Gawthorpe is unlikely to help persuade parents to send their offspring here.
The development of Gawthorpe was first mooted over two years ago. A fund has been established into which supporters' groups and individuals have donated hard-earned cash. The Club, quite rightly, sees it as a priority. But little has happened in that time.
We have some outstanding prospects in the current youth team. Joel Pilkington, Andrew Waine, Earl Davis and Mark Rasmussen are already established reserve team players. There is no doubt that the youth set up has improved greatly in the last few years, and Jack Hixon's welcome appearance at the Turf last Saturday was a timely reminder of one of the reasons why.
But when we struggle to find a patch of dry land on which to complete our fixtures in time it does rather put these efforts into perspective.