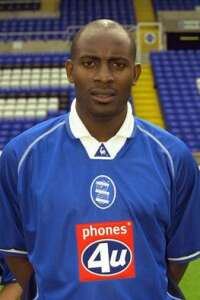 Dele Adebola - scored Birmingham's first goal
A much changed side put up a much better show than the more experienced players did on Monday and despite being behind came back and dominated the last twenty minutes of the game.
Andrew Waine had to be substituted during the first half with an injury to his side and was replaced by Richard Chaplow and during the second half the only two senior players, Andy Payton and Tony Ellis, were both replaced by Damian Hindle and Anthony Shandran.
The Birmingham goals, one in each half, came from Dele Adebola and Tony Capaldi.
Again there were impressive performances from the youngsters and none more so than Earl Davis who did particularly well against Adebola.
Birmingham manager Steve Bruce was there throughout the game, yes we were shocked to learn that he is still manager at Birmingham and he confirmed to Clarets Mad that he would not be applying for the vacancy at Everton.

Full report to follow

Fixtures and Results