You only Singh when you're winning
By Tony Scholes
Updated Monday, 25th June 2012
Views: 85
It has been another week of takeover talk in the Championship but as I write, nothing has happened at any of Leeds United, Nottingham Forest or Watford although there's been some fun at Vicarage Road with some very conflicting stories.
No signings at Forest
I think we can get Leeds out of the way first. There's been little news of anything imminent over the last seven days with the only real news coming out of Elland Road being the signings of Adam Drury from Norwich and Derby County's Paul Green.
That's three summer signings now for Leeds, adding to the capture of Jason Pearce from Portsmouth. Three signings and not even one striker. Colin must be slipping.
There have been no signings at Nottingham Forest and there won't be any until something happens regarding their takeover. It's simple; Nigel Doughty's family are selling the club and until a deal is done then they can't do anything.
It is proving to be somewhat frustrating for manager Steve Cotterill who has admitted that the uncertainty has led to him missing out already on a number of transfer targets. "If I thought the squad was lacking balance before, I don't know how to describe it now," the Forest manager said.
"A few players who I had identified as possible signings have already been snapped up by other clubs. I am not going to name them now (but Jason Pearce and Joel Ward might not be too far wide of the mark), as that would not be fair on them or the clubs they have signed for, but it is happening already, we are missing out on signings."
It's even worse than not being able to bring in new players; Cotterill cannot even offer terms to those players who have fallen out of contract. He's already seen Garath McCleary, Paul Anderson and George Boateng leave and there could be others to go too.
One takeover still very much in the news is that at Watford. It is off if you listen to Laurence Bassini who just happens to be the current owner of Watford. He ruled it all out last week because he said the Pozzo family, already owners of Udinese and Granada, did not have the money.
That contrasts with the official line from Watford FC, the very club that Bassini owns, who claim it is all very much on. In total contrast to the words of their owner, they issued a statement that read: "Despite recent remarks, the deal for the sale of Watford FC to the Pozzo family is progressing nicely.
"There is no issue with funds and both parties are hoping to conclude shortly."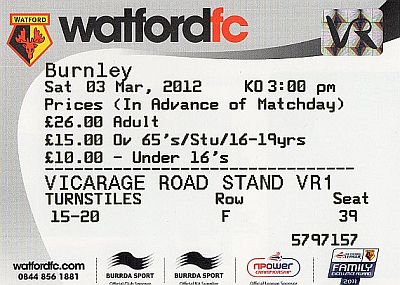 Watford tickets - you still can't print your own
Pozzo's or no Pozzo's, you will still have to have your match tickets for games at Watford posted to you after the club suspended their plan to let you print your own. It is a new initiative but there have been some technical issues and until they are resolved the new service will not be in operation.
Last week, Barnsley admitted to the dismay of not being able to arrange a home friendly with Fulham reluctant to travel as far as Yorkshire. This week they have reported success with West Brom now filling the gap and providing the opposition at Oakwell on Saturday 28th July.
What a weekend for the Tykes who will have a big game the following day too as their Legends take on a team of Yorkshire celebrities as part of their 125th anniversary celebrations. Craig Hignett's playing. It might well be worth going if someone can guarantee he'll be sent off.
All teams will, of course, be playing friendlies ahead of the new season and it the new season's looked that bit closer since the fixtures were published a week ago. Supporters and clubs can start planning now for the games to come.
Planning for our team starts a week on Friday when they report back for pre-season training. I doubt we'll be the last to report back but I can guarantee we won't be the first. Millwall's players returned for their pre-season during last week with manager Kenny Jackett saying he'll have the fittest squad in the league.
There have been some changes at Millwall. Coach Richard Shaw, described by the club as the best coach they've had, has lost his job whilst there was a new face for their goalkeepers with the appointment of Kevin Pressman as goalkeeper coach.
Pressman had previously been at Bradford City but the League Two club confirmed earlier last week that he'd left the club to take up an opportunity with an unknown Championship club. Both clubs wanted it to remain under wraps but Pressman obviously didn't; he'd already tweeted that he was off to Millwall.
Andy Beasley is also a new goalkeeping coach in the Championship. He's gone to Brighton who have just signed Tomasz Kuszczak from Manchester United. Beasley will work with the new man but it's all been too much for Tony Godden who has lost his job as coach. he's already taken legal advice over his departure.
A weekly look at the Championship would never be complete without news from the Venky's chicken farm just a few miles west of us. This week they appointed Shebby Singh as global advisor, cum director of football, cum whatever other title he might assume.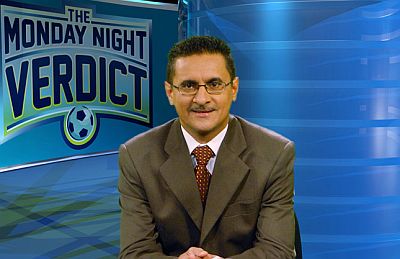 Shebby Singh - the new man at Ewood
He was there doing his first SSN interview even before Blackburn had bothered to confirm his appointment. You couldn't make it up, but even now, they have not formally confirmed the appointment on their web site although they have announced that Ian Silvester has replaced Anthony Bloch as secretary.
Bloch, it is believed, has voiced misgiving s about manager Steve Kean's failure to keep Blackburn in the Premier League and paid with his job. Having said that, the arrival of Singh is in total contrast to suggestions you have to be in the 'Kean is perfect' group to survive at Ewood.
Singh said of Kean recently: "Steve Kean is obviously not the man to lead Blackburn Rovers back to the Premiership." He accused Kean, in an article, of being tactically naive and also suggested that one of the big problems was their midfielders David Dunn and Morten Gamst Pedersen were past their prime.
Mmmm - Pedersen is 30 and Dunn is 32. Of course they need younger and so they've signed 35-year-old Danny Murphy from Fulham on a two year deal this morning. On the surface this looks to be a good signing but, given the words of Singh, it hardly suggests they have suddenly worked out what they are doing just down the road. Even so, Murphy is delighted and pointed to the ambition and passion of Kean as factors in his decision.
For those confused - we can confirm that Shebby is not the brother of Malaysian karaoke star Gerupta.
It's incredible that the fixtures have been in our hands for a week and we've had no changes yet. That's not the case with all clubs; Watford's home game on New Year's Day against Charlton Athletic has been brought forward two hours and will now kick off at 1:00 p.m.
Why on earth have they done that? Watford revealed: "The fixture has been moved due to a request from local police." I bet it was a request too.
Elsewhere, we must now refer to Fabrice Muamba as Doctor Muamba after he was awarded an honorary doctorate in Bolton whilst down in South Wales we might be facing Craig Bellamy again. He's not too keen on the lack of opportunity at Liverpool and Cardiff are waiting to pounce to take him back to the Welsh capital, this time on a permanent deal.
Cardiff did complete one signing last week, that of Jordon Mutch from Birmingham. Other deals that have gone through in the last week include those of Jacob Mellis and Mido to Barnsley. Mellis, I'm sure, will set the place on fire. What Mido will offer is anyone's guess.
Sean Scannell has moved from Crystal Palace to Huddersfield; goalkeeper Robert Olejnik has swapped Torquay for Peterborough and both Sheffield Wednesday and Wolves made two signings.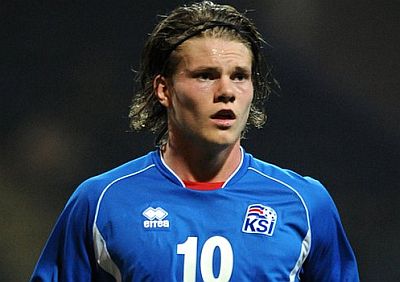 Wolves new man Bjorn Sigurdarson
Anthony Gardner from Crystal Palace and Derby's Chris Maguire made it five signings for Sheffield Wednesday, the most by any Championship club so far this summer, whilst over at Wolves they've signed Frank Nouble from West Ham and 18-year-old Jamie Tank. He was in Walsall's youth team last season but turned down the offer of a first professional deal to sign for Wolves.
Wolves have really made it three but the third signing cannot go through until 13th July. They've capture Lillestrom's Bjorn Sigurdarson who happens to be the half brother of former Burnley and Wolves midfielder Joey Gudjonsson.
The wait is because of the Lillestrom fixtures and their transfer window meaning he still has to play a further three games for them. Cleverly both he and Lillestrom have taken out insurance policies should he suffer a serious injury in any of those games that could rule out the move.
He doesn't look anything like Joey does he?
Interact with us