Without doubt the talking point of the week has been the Pedro Mendes goal for Spurs at Old Trafford that was not given even though it had crossed the line by what looked to be at least a yard.


Referee Mark Clattenburg was too far away to see it whilst assistant Rob Lewis stumbled as he tried to get back and didn't see it either. As is usually the case, Manchester United got away with it.


So it should come as no surprise that tonight Mark Clattenburg will be in the middle whilst one of his assistants will be Rob Lewis who is sure to get some stick from the crowd should there be anything close to a shot being stopped on the line.


I remember Clattenburg's first Turf Moor appearance over three years ago when he had a complete nightmare in a 1-0 win against Crystal Palace courtesy of a Paul Cook classic. He booked four that night including Tony Grant and Gareth Taylor and got virtually nothing right.


In subsequent Burnley games he's always been on the ball with the yellow cards (and even a red) but he was earmarked for the Premiership and has made it this season after four seasons in the Football League. Not only that he is building a reputation for himself as one of the best referees in the country and appears to have taken over from Paul Durkin as the referee who can best communicate with players.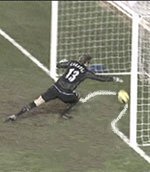 Did that effort from Mendes really go in?

He has taken charge of sixteen games this season and given out thirty yellow cards and just two red card. Everton's Gary Naysmith in a 3-1 win at Palace and Danny Mills in Manchester City's 1-1 home draw against Blackburn are the two players he has sent off. Of those yellow cards twelve have gone to home players and eighteen to away players.



His last Burnley game was early last season, the 4-1 defeat at West Brom whilst he was recently in charge at Anfield for their 1-1 draw with Portsmouth.



He has become a referee that can be relied on more often than not, just as long as he and Lewis don't have any long distance lobs to deal with.



His other assistant tonight will be Mr R Burton whilst Chester referee Michael Jones will be the 4th official. It was Jones who sent off Michael Duff earlier this season.

Previous Burnley games:
| | | | | | | |
| --- | --- | --- | --- | --- | --- | --- |
| Season | Opps | V | Res | Y | R | Burnley players carded |
| a | | | | | | |
| 2003/04 | West Brom | a | 1-4 | 5 | 0 | Branch Camara May |
| 2002/03 | Sheffield Wed | h | 2-7 | 6 | 1 | I Moore(red) Armstrong Davis GnohereTaylor |
| 2002/03 | Portsmouth | h | 0-3 | 5 | 0 | Briscoe |
| 2001/02 | Crystal Palace | h | 1-0 | 4 | 0 | Grant Taylor |