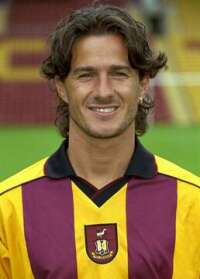 Benito Carbone - £40,000 a week plus free house, free car and free flights home
If nothing else Richmond, alongside Hell-Wood at Stockport, would always let the world know what was going on. That was the case when Burnley were negotiating with Robbie Blake and Burnley were unable to carry out those negotiations in private because of him.
Today he has told us that there are already bidders to televise Nationwide League football next season and also how many did and didn't want Celtic and Rangers.
On the television he has said that the Football League have now claimed the rights back and there is already in excess of one bidder (we have to assume two). Although neither are offering as much as we were supposed to get from ITV Digital they are both very good deals. He estimates that it will be December before there is a final outcome on the League's efforts to get the money due from Carlton and Granada.
As for Celtic and Rangers, and despite denials from the Football League's David Burns, Richmond has confirmed that moves have been made at Football League Board Level. Richmond says the chairman wrote to all First Division clubs on the subject at the request of the League's board as to whether to invite the Old Firm. Two clubs didn't bother to reply, two others incredibly said they had not discussed it. Of the remaining twenty Richmond tells us that seventeen were in favour and just three against. I rather worry from the comments from Barry Kilby earlier in the week that we were one of the seventeen.
As for his own club he has said that the collapse of ITV Digital and the return of Benito Carbone had been the 'double-whammy' that had hit them but did admit that mistakes had been made and even admitted making some himself.
One final thing, I have been a shareholder of Burnley Football Club for sixteen years and to this day have never received, demanded or wanted a dividend on my shares. In the last two years Bradford City have paid out £7.2 million in dividends.