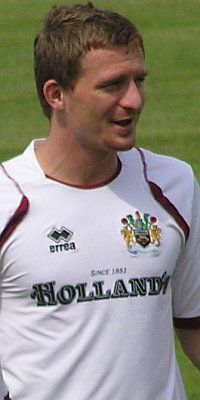 Bes Berisha - completed the scoring with a wonder goal
He'd not been on long, and the Clarets were already two goals to the good with two superb strikes, but he lifted the entire place as he came in from the left. He beat three defenders, brilliantly beating the last one with the drop of his shoulder, and then hit home an unstoppable shot from a tight angle that left the Stanley keeper clutching at air.
To say Bes looked pleased is an understatement, and it wasn't just him. The whole team went to him including goalkeeper Brian Jensen. It might only be a goal in a friendly but this will be the first goal he's scored for a long time and will give him so much confidence.
It put a fair reflection on the scoreline after a game that only came to life in the second half after a dour first half when there was very little to excite.
Four of our five new signings were on view. Kevin McDonald failed to make it because of his foot injury but the others were all in the starting line up. Diego Penny was in goal and in front of him the back four read Graham Alexander, Michael Duff, Steven Caldwell and Christian Kalvenes.
Remco van der Schaaf, who has missed all of the last four games, was in the defensive midfield position whilst in front of him were Wade Elliott, Joey Gudjonsson, Alan Mahon and Robbie Blake whilst Martin Paterson was up front.
And new man Remco almost set up the first goal of the game in the opening minutes. He played a delightful ball out to Elliott on the right but the winger's powerful shot came back off the post.
At the other end there was a mix up when Penny came out to get the ball but didn't get hold of it but the ball was cleared, and in truth that was the only time he was seriously called upon in the first half.
We were well on top but in truth weren't creating too much although Blake was involved in just about everything as we pushed forward time and again. We were getting players forward and really taking the game to them but we just couldn't create any real chances.
At the other end van der Schaaf was showing us exactly why Owen Coyle was keen to bring him to Burnley. He patrolled in front of the back four and I lost count of the number of headers he won.
Such was the heat that the referee called a drinks break during the first half, but incredibly it came just seven minutes before the half time whistle. Still, I can understand anyone wanting to break in the weather we are experiencing at the moment.
No score at half time but there was better to come in the second half with three excellent goals whilst we again made numerous changes. There were three of them at half time but Alex MacDonald didn't last long after pulling up with a thigh injury. By the final whistle only Alexander, Duff, Gudjonsson and Blake had played the entire ninety minutes.
Now to the goals. The first came just three minutes into the half from Gudjonsson, his second in pre-season. It came after we won a free kick for a foul on Blake and he simply hammered the ball home into the top corner from fully thirty yards. I'm not sure whether the keeper got a touch but he'll have some very sore fingers if he did such was the power of the shot.
Not long after, in open play, he had another effort on goal from distance that dipped and only just cleared the bar. With both Jones and Paterson coming close the Clarets really were on top now and when the lead was doubled the goal was an even better one.
It was another free kick, this time right out on the left hand touchline but again at least thirty yards from goal. Again the keeper had no hope whatsoever as Robbie hammered home. Two up and two superb goals.
Stanley weren't troubling us at all but they did get in one shot that Jensen saved well down to his left and then the Danish keeper made an even better save from Stephen Jordan who had a very good second half.
Then came the Berisha goal - that drop of the shoulder was almost Chris Waddle like, the shot though had a touch of Frank Casper about it. Eventually the Albanian resurfaced from under the rest of the squad with a smile on his face that almost stretched back to the Turf.
It might not have been a classic, in fact during the first half it was pretty dour stuff, but you don't often get three goals as good as that in any game. And again there were positives to take from the game.
Robbie Blake was my man of the match, playing like that he's worth the admission money. But there were other good performances across the pitch and in all areas but I do have to single out Remco van der Schaaf. It is the first time I've seen him play and was very, very impressed with him.
It's time to pack for Belfast now and it certainly looks as though we are taking our shooting boots with us after that second half.
The teams were;
Accrington:
Arthur, Cavanagh, King, Edwards, Murdock, Proctor, Miles, Craney, Clark, Mullin (P), Grant. Subs: Dunbavin, Richardson, Ouamara, Jahrow, Moore, Ryan, Flower, Turner, Bell, Murphy, Williams.
Burnley:
Diego Penny (Brian Jensen 45), Graham Alexander, Michael Duff, Steven Caldwell (Clarke Carlisle 63), Christian Kalvanes (Stephen Jordan 45), Remco van der Schaaf (Adam Kay 74), Wade Elliott (Alex MacDonald 45, Steve Jones 53), Joey Gudjonsson, Alan Mahon (Jay Rodriguez 66), Robbie Blake, Martin Paterson (Bes Berisha 74).
Attendance:
3,142.